(01/12/22) Plans to transform the Sevens World Series were unveiled this week, with World Rugby EventsCo set to assume greater responsibility for the delivery of events around the world.
The remodelled Sevens World Series will include seven festival-style events, in seven destinations, across seven months, featuring the best 12 men's and 12 women's teams and is set to kick off in December 2023.
The changes are meant to attract a younger, more diverse and global fanbase while generating greater revenues.
All seven rounds will feature combined men's and women's events, with the men's series being reduced from 16 to 12 teams to align it with the Olympic competition model and match the number of women's teams.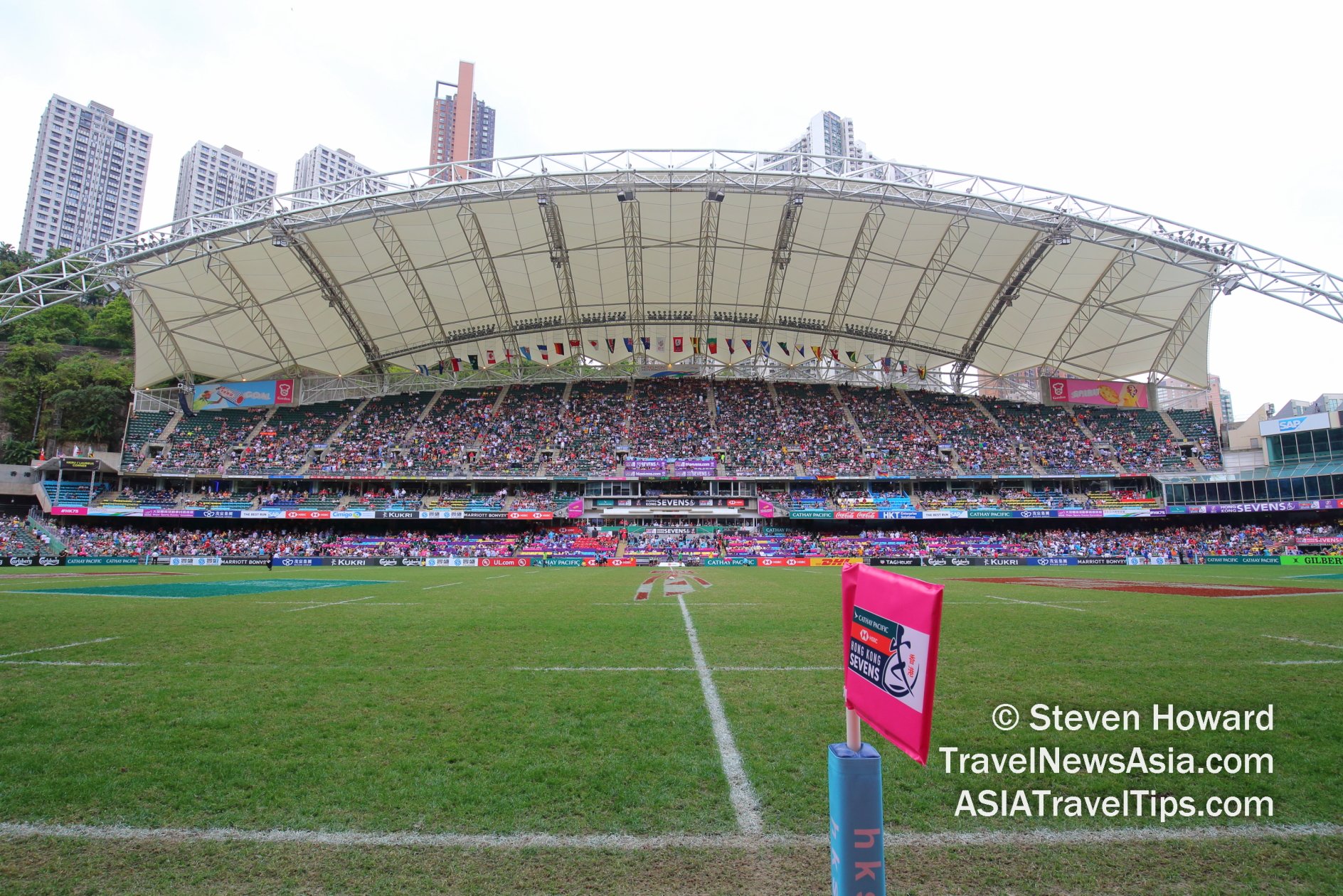 The HK7s is widely regarded as the best rugby sevens party in the world. Picture by Steven Howard of TravelNewsAsia.com
An annual 'Grand Finale' event will take place in the seventh round, which will see the top eight ranked teams after six rounds compete to be crowned series champions, while the teams ranked ninth to twelth will join the top four ranked teams from the Challenger Series in a high stakes relegation play-off competition which will see four teams secure their places in the next edition of the series.
The four unsuccessful teams will go into regional competitions to qualify for the next Challenger Series, which comprises of 12 men's and 12 women's teams competing in the second level of international rugby sevens.
In another development, men's and women's teams will receive equal participation fees, with a 70% uplift in World Rugby's investment in participation fees in the new model.
Confirmed hosts, competition dates and a new brand identity is expected to be announced in the coming months, with the first edition of the new-look series to run from December 2023 through June 2024.
"The simple aim of the remodelled series is to grow the game by reaching more fans, generating greater revenues to reinvest in performance, and deliver bigger, better and more engaging and entertaining event experiences for fans in the stadium, interacting online or watching on broadcast around the world," said Richard Heaselgrave, World Rugby Chief Revenue and Fan Engagement Officer. "Fans will be at the heart of the action as the series will chase the sun, mixing the best of sport and entertainment to create unmissable live event experiences with a festival atmosphere in seven iconic global destinations, which will broaden rugby sevens' appeal and attract new audiences. We will continue to build the series into a global sports and entertainment brand by widening our event experience offering. The series has a great opportunity to develop world class events that integrate top level sport, live music, culinary experiences, retail, art, culture and mass participation, providing fans with the flexibility to watch, play and engage across a range of event experiences."
The current HSBC World Rugby Sevens Series continues with the next pair of rounds taking place in Dubai on 2-3 December, followed by Cape Town on 9-11 December.
Rugby pictures: Pictures from 2019 Cathay Pacific / HSBC Hong Kong Sevens,
Pictures from 2018 Cathay Pacific / HSBC Hong Kong Sevens,
Pictures from 2017 Cathay Pacific / HSBC Hong Kong Sevens, Pictures from 2016 Cathay Pacific / HSBC Hong Kong Sevens, Pictures of Cathay Pacific / HSBC Hong Kong Sevens 2015, Pictures of the Asia Rugby Sevens Olympic Games Qualifier in Hong Kong, Pictures of Singha Thailand Sevens 2015,

Pictures from the 2013 British & Irish Lions Tour in Hong Kong,

Pictures of Hong Kong Sevens 2014,

Pictures of Hong Kong Sevens 2013,
Pictures of Chartis Cup 2012 and
Pictures of Cathay Pacific / HSBC Hong Kong Sevens 2012.
Latest HD video interviews: Amari Watergate Bangkok – 4K Video Interview with Sukamal Mondal, Area GM, Bangkok Riverside Fest 2023 – 4K Video Interview with Frederic Kolde, Business Travel Trends in Asia Pacific – Video Interview with Brett Thorstad, Sabre.