(29/12/22) The popular ferry transfer service between the SkyPier at Hong Kong International Airport (HKIA) and Macau will resume on 30 December 2022, providing cross-boundary transport service for sea-to-air and air-to-sea transfer passengers.
Connecting HKIA to the Greater Bay Area, SkyPier provides very convenient and speedy sea-to-air and air-to-sea ferry services for transfer passengers travelling to/from overseas destinations via HKIA.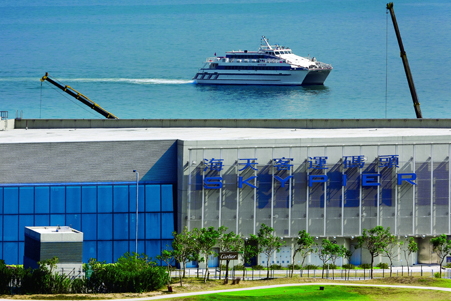 SkyPier at HKIA
Transfer passengers from the Greater Bay Area can complete check-in and immigration procedures at the ports and take the ferry, then proceed directly to boarding gates in the airport restricted area for boarding upon arrival at SkyPier, without having to go through immigration procedures again at HKIA.
TurboJET will operate one round-trip between SkyPier and Macau Taipa Ferry Terminal every Friday and Sunday, with the ferry scheduled to depart HKIA at 09:45. The ferry from Macau is timed to arrive at SkyPier at 15:40.
The sea-to-air transfer ferry service from Shenzhen Shekou Port to SkyPier resumed in October 2020, with the number of trips running daily already increased from two to five.
Airport Authority Hong Kong has said that it is in close communication with the relevant departments and ferry operators about resuming sea-to-air ferry services from other ports in Mainland China, as well as air-to-sea ferry services from SkyPier to Mainland China as soon as possible.
Passengers should check with ferry operators for ticketing arrangements.
Latest HD video interviews: Amari Watergate Bangkok – 4K Video Interview with Sukamal Mondal, Area GM, Bangkok Riverside Fest 2023 – 4K Video Interview with Frederic Kolde, Business Travel Trends in Asia Pacific – Video Interview with Brett Thorstad, Sabre.