(14/03/23) Onyx Hospitality has confirmed that it is on track to achieve its goal of operating 54 properties by 2025.
The Thailand-based company currently operates 44 properties, with an additional 11 under development, in Bangladesh, China, Hong Kong SAR, Japan, Laos, Malaysia, Maldives, Sri Lanka and Thailand.
The group's portfolio consists of three core brands: Amari hotels, Ozo hotels and Shama serviced apartments, of which 18% are invested by the group and 82% under management contracts.
Onyx Hospitality's properties, both owned and managed, are expected to generate US$260 million (approximately THB 8.8 billion) in revenue in 2023, signifying a 60% increase on the previous year.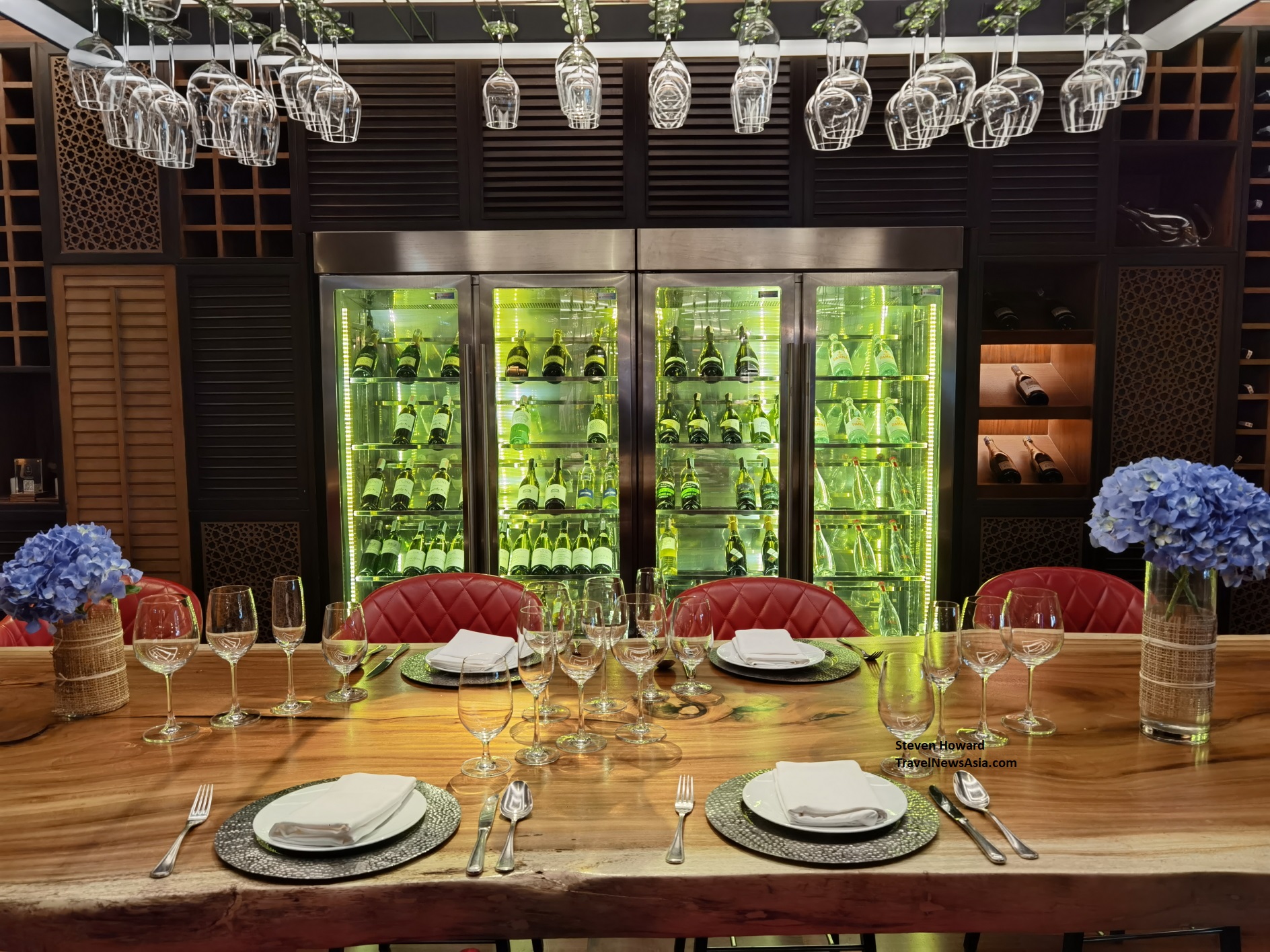 Private event space at the Amari Watergate Bangkok. Picture by Steven Howard of TravelNewsAsia.com
This optimism stems from the number of advance bookings from markets, including Europe. German bookings are up 33% on Q1 2023 compared to the same period in 2019. Overall, European bookings are up 44%.
New Hotels and Refurbishments
Onyx is investing and developing its existing portfolio of properties to ensure they remain competitive and attractive to guests. Following the US$100 million investment to redevelop the iconic Amari Pattaya and OZO North Pattaya, Amari Watergate in Bangkok has also completed its own recent refurbishment, investing US$32 million.
Samui's favourite Italian restaurant Prego has also made its debut at Amari Watergate Bangkok and Amari Pattaya, welcoming guests with authentic Italian cuisine honed by Chef Marco Boscaini.
Malaysia is set to become the first country to operate all three Onyx brands, outside of Thailand. Onyx currently operates Amari Johor Bahru and OZO Georgetown Penang, as well as the newly opened Amari Spice Penang and Amari Kuala Lumpur. The strategic expansion in Malaysia is set to continue with OZO Medini Iskandar (Q3 2023) and Shama Medini Iskandar (2024).
The Shama serviced apartment brand is also reinforcing its position in Bangkok's thriving short and extended-stay market. Shama Yen-Akat opened earlier this year, and in October, Shama Petchburi 47 (formerly Amari Residences Bangkok) and Shama Ekamai Bangkok (Formerly Ekamai Gardens Bangkok) joined the current Shama portfolio, bringing the total number of Shama's in the city to six. This month, the brand will also be introducing Shama Luxe Sukhumvit Bangkok (formerly Shama Sukhumvit 39), the first Shama Luxe in Bangkok located in the city's upscale Thonglor neighbourhood with premium apartments ranging from 1-bedroom to the luxurious and spacious Penthouse.
The opening of Amari Raaya Maldives is slated for early summer 2023. The 187-villa private island resort will occupy a secluded island in the Raa Atoll, northwest of the Maldivian capital of Male. The resort will feature seven dining concepts, a Maai Spa, and a kids club. Amari Raaya Maldives will be Onyx's second property in the country.
The Amari Colombo Sri Lanka is scheduled to welcome its first guests in 2024. Upon completion, the 24-storey property will offer 180 rooms and suites along with a signature all-day dining restaurant and spa. Other highlights include a rooftop pool, bar and recreation centre and a Thai specialty restaurant, all offering views of the ocean and the city skyline. The hotel will also offer dedicated executive floors with access to an executive lounge.
"After an unprecedented and challenging period for travel, we are so pleased to see our international visitors return in abundance," said Yuthachai Charanchitta, Owner and CEO of Onyx Hospitality Group. "With new properties to showcase and refreshed product and services across our much-loved hotels and resorts, we look forward to welcoming guests again to Onyx properties."
See also: Amari Watergate Bangkok – 4K Video Interview with Sukamal Mondal, Area GM.
Latest videos: Noise Cancelling Ear Plugs for a Perfect Night's Sleep, Running Lights – Lumefit Premium 360° Reflective Vest Review, Steven Howard Outlines Travel News Asia's Video and Podcast Plans for 2023, Amari Watergate Bangkok – 4K Video Interview with Sukamal Mondal, Area GM.