(24/11/22) Rolls-Royce Power Systems has signed a letter of intent (LOI) with Sumec, a long-term partner in the power generation sector, covering over 200 mtu engines and systems.
The LOI, signed at the fifth China International Import Expo (CIIE) in Shanghai earlier this month, also includes loose engines with a mix of Series 4000 and Series 2000 engines, partly manufactured by MTU Yuchai Power – the joint venture between Rolls-Royce and Guangxi Yuchai Machinery, locally assembled diesel systems, as well as gas systems and dynamic UPS.
The engines and systems will be used primarily for market segments including but not limited to telecommunications, semiconductor, data center and biogas application.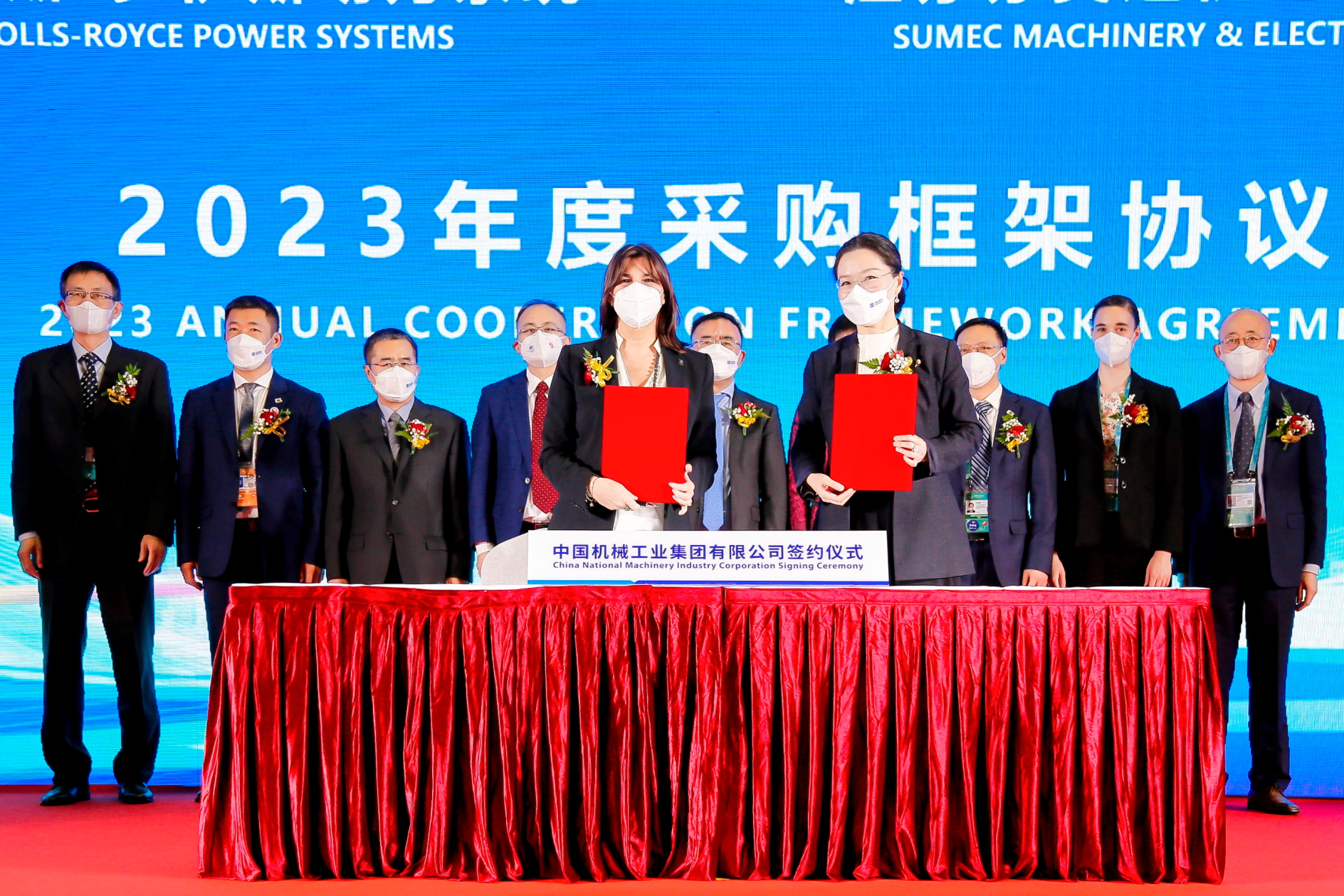 Sumec signs LOI with Rolls-Royce for 200 mtu engines and systems
Cheng Xiaosong, Vice Chairman of Sumec M&E, said, "Over the past 40 years, Sumec has demonstrated a continued commitment to high-quality development, innovation, stability and sustainable development. Stable backup power supply is crucial for us to maintain our operational excellence. Rolls-Royce has been supplying mtu engines that well support our business security and continuity. We look forward to bringing our cooperation to a new level, and hope to work together with Rolls-Royce to step into new industries and sustainable solutions."
The Chinese market presents tremendous opportunities for the business growth of Rolls-Royce's Power Systems business unit. Expanding market share and establishing and deepening partnerships in China are also key to the success of the company's PS 2030 strategy, under which Rolls-Royce Power Systems is evolving from an engine manufacturer to a provider of integrated sustainable solutions.
Rolls-Royce has been producing mtu engines in China since 2006 and formed joint ventures with Chinese manufacturers to continue localizing its footprint over the years.
Eugenia Valente, President, Rolls-Royce Solutions Greater China, said, "The fact that Sumec puts its trust in our mtu solutions for such a wide range of industries makes us proud. And it proves that our investments, focus on building long-term partnerships in China and our 'local-for-local' approach for localization are the right strategy, benefitting both Rolls-Royce and our Chinese partners. China is the most important growth market for us, as a provider of integrated solutions for power and propulsion, we strive to support the country's economic growth and infrastructure development. We also look forward to supporting China's journey towards decarbonisation with our sustainable solutions."
Latest HD video interviews: Amari Watergate Bangkok – 4K Video Interview with Sukamal Mondal, Area GM, Bangkok Riverside Fest 2023 – 4K Video Interview with Frederic Kolde, Business Travel Trends in Asia Pacific – Video Interview with Brett Thorstad, Sabre.