(28/10/22) Saudi Arabia's national airline has unveiled plans to purchase 100 Lilium electric vertical take-off and landing (eVTOL) jets and support the certification process.
The two companies signed a MOU at the sixth edition of the Future Investment Initiative (FII) in Riyadh earlier this week.
Alexander Asseily, Vice Chairman of Lilium, said, "We are thrilled to work with innovative partners for whom sustainability is a priority. This partnership with Saudia, our first in the Middle East, is an exciting development for Lilium. We look forward to working with Saudia to deploy an eVTOL network across Saudi Arabia."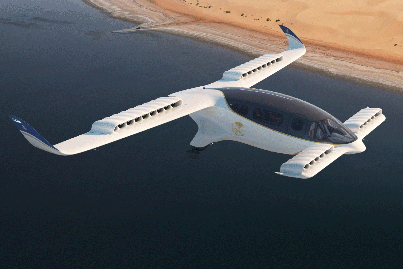 Saudia has signed a MOU for 100 Lilium eVTOL Jets
With zero operating emissions, the Lilium Jet is being designed to enable sustainable travel, while a flexible cabin architecture will allow customers to choose from a range of different interior configurations.
Saudia says it plans to use the jets to launch new electric point-to-point connections as well as to offer seamless feeder connections to Saudia's hubs for business class guests.
The airline also expects to support Lilium with the necessary regulatory approval processes in Saudi Arabia for certification of the Lilium Jet and any other required regulatory approvals.
The proposed arrangement between the two companies is subject to both parties completing a feasibility assessment, agreeing to commercial terms, and entering into definitive agreements with respect thereto and satisfaction of certain conditions.
Captain Ibrahim S. Koshy, Chief Executive Officer of Saudia, said, "Saudia, building on its commitment to be an industry leading airline committed to sustainability, considers our eVTOL network project with Lilium to be an undertaking of great significance for the Kingdom's aviation industry and will contribute effectively to spurring sustainable tourism in Saudi Arabia using zero-emission aviation. Saudia intends to meet a growing demand for regional air mobility and offer our valued Guests a superior on-board experience. The potential for such an airborne transit network is limitless".
Saudia currently operates a network of more than 100 domestic and international destinations.
Latest HD video interview: Business Travel Trends in Asia Pacific – Video Interview with Brett Thorstad, Sabre.