(06 September 2022, 11:22 +07) Saudi Arabian Airlines (Saudia) has expanded its partnership with the Air Connectivity Program with direct flights departing from Jeddah's King Abdulaziz International Airport to Tunis and Kuala Lumpur, Malaysia.
Saudia operates its latest aircraft between the two destinations, featuring an array of premium services including 5,000 hours of onboard entertainment content.
The Saudi Air Connectivity Program was established to enable and enhance air connectivity to and in the Kingdom of Saudi Arabia by developing existing and targeted new air routes.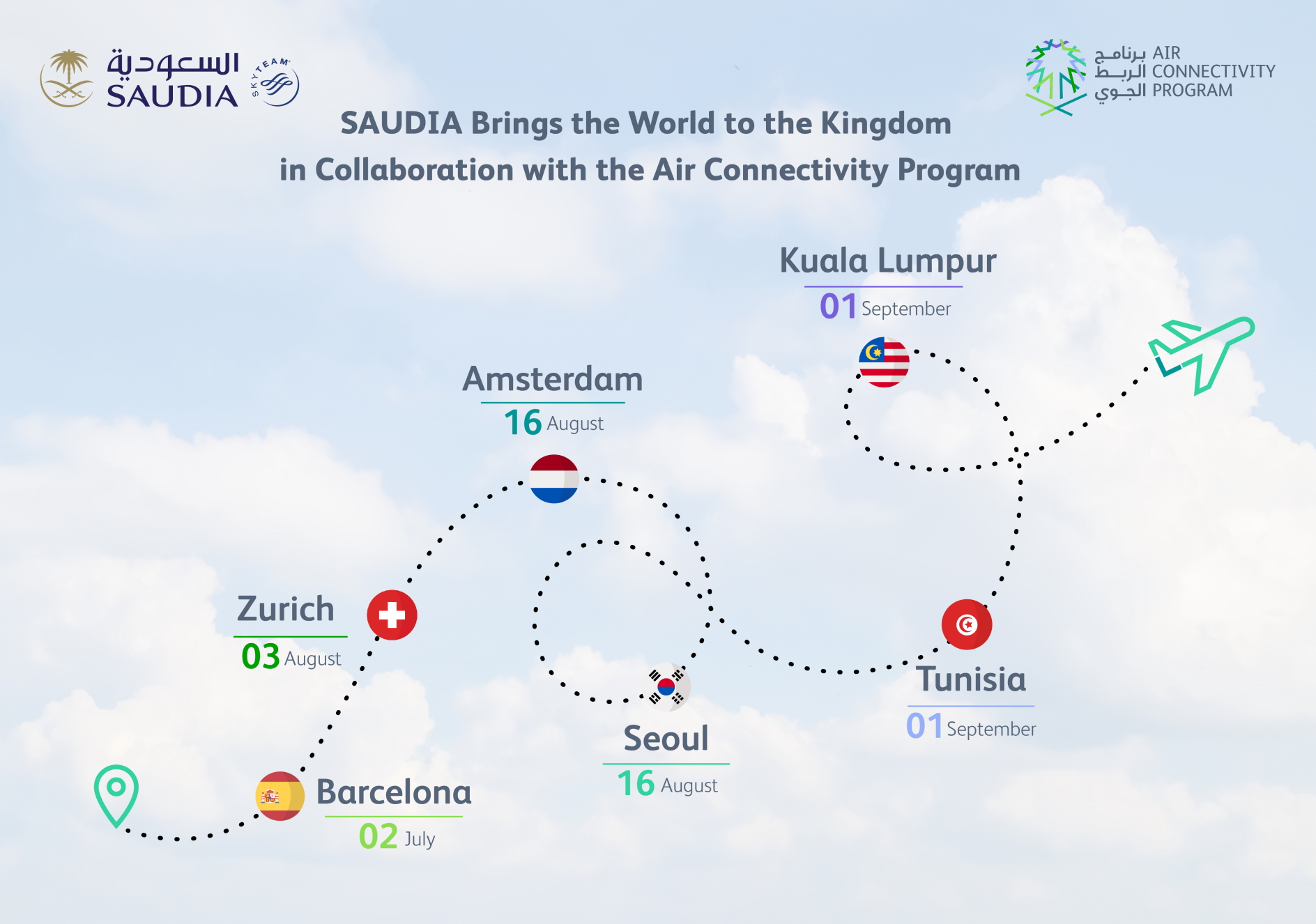 Saudia continue to expand its partnership with the Air Connectivity Program
Recently inaugurated flights to Barcelona, Zurich, Amsterdam and Seoul which have come as a result of Saudia's collaboration with the Air Connectivity Program, have proven to be very popular among guests.
During the first half of 2022, nearly 4.8 million international guests flew Saudia, an increase of 242%. Saudia operated 28,600 international flights during H1 2022, an increase of 156%.
Thanks to a combination of new, in-demand travel options and enhanced ground services, the two sides are expected to announce new international destinations in the near future.
Saudia is currently rebuilding its network as COVID19-related travel restrictions and requirements around the world are gradually lifted or eased. Today, the airline operates passenger flights to more than 100 destinations across four continents.
Recent HD video interviews: Airports, Biometrics and Travel – Interview with Sumesh Patel, SITA President – Asia Pacific, Mövenpick Siam Hotel Na Jomtien Pattaya – Interview with Dmitry Chernyshev, GM, HD Video Interviews from Miss International Queen 2022 in Pattaya, Thailand, Siam@Siam Design Hotel Pattaya – Interview with Clive Nagington, Is Siam Seaplane Ready for Take Off? Interview with Dennis Keller, Chief Business Officer.