(12 September 2022, 15:42 +07) Saudi Arabian Airlines (Saudia) has unveiled a new aircraft livery that celebrates the ambitious Neom project, a sustainable regional development in northwest Saudi Arabia.
Last May, Neom entered into a strategic partnership with Saudia to conduct regular international flights from Neom Bay Airport (NUM) to selected destinations, and to help it roll out further commercial services.
Increasing direct connectivity to Neom is an important step in promoting the further development of the giga-project, which is being completed by a team of local, regional and international experts.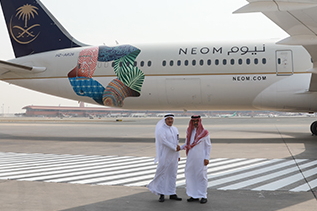 Saudia unveils aircraft livery that celebrates the ambitious Neom project
Neom currently has over 1,500 full-time employees representing over 65 nationalities, and numerous business partners from all over the world.
Neom, home to the futuristic Line development, sits at the crossroads of three continents, with 40% of the world accessible within a six-hour flight.
Nadhmi Al-Nasr, Neom CEO, said, "Our partnership with Saudia, will carry our ambitious vision to the world, showcasing how Neom is in service of humanity to ensure prosperity and offer real solutions to global challenges. We hope that our ideas and aspirations will reach all regions across the world so that everyone can take part in creating this global project. We are immensely proud of and have a vested interest in letting the world know about Neom, a key project of Saudi Vision 2030 and the new future."
H.E. Eng. Ibrahim Abdulrahman Al Omar, Saudia Director General, said, "This partnership paves the way for more cooperation in the future. Placing the Neom and Saudia brands side by side delivers a meaningful message to the world, highlighting the unity and coordination between the sectors and the various vital economic projects which work closely on achieving the Kingdom's strategies and ambitious plans."
The Line Project in Neom, Saudi Arabia
Recent HD video interviews: Airports, Biometrics and Travel – Interview with Sumesh Patel, SITA President – Asia Pacific, Mövenpick Siam Hotel Na Jomtien Pattaya – Interview with Dmitry Chernyshev, GM, HD Video Interviews from Miss International Queen 2022 in Pattaya, Thailand, Siam@Siam Design Hotel Pattaya – Interview with Clive Nagington, Is Siam Seaplane Ready for Take Off? Interview with Dennis Keller, Chief Business Officer.