(28/11/22) SalamAir has unveiled plans to launch flights between Muscat and Bangkok, Thailand.
Scheduled to take off on 18 December 2022, the Omani airline will operate the route with thrice weekly flights departing from Muscat on Sundays, Tuesdays and Fridays.
From Bangkok, the flights are scheduled to depart every Monday, Wednesday and Saturday.
Bangkok will be SalamAir's second destination in Thailand, giving travellers the option of booking a flight to Phuket and return from Bangkok, or vice versa.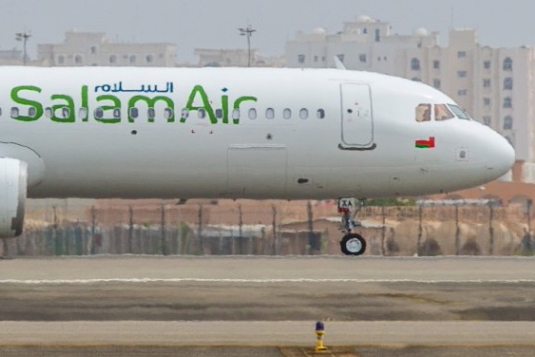 SalamAir will launch flights to Bangkok, Thailand in December
The journey between Muscat and Bangkok will take about 6 hours.
"Bangkok remains one of the most preferred tourist destinations for Omanis and expats," said Captain Mohamed Ahmed, CEO of SalamAir. "We are delighted to commence flights between Muscat and Bangkok, providing our customers with a perfect value-for-money product that allows them to be flexible, save on airfare with our competitive pricing and add services they prefer. The flights will boost tourism, economic relations, and business opportunities between Oman and Thailand. The airline's network expansion strategy is dedicated to increasingly connecting more destinations along new sectors to establish a strong pan-international presence."
SalamAir launched commercial operations in 2017 and currently operates one A321F, six A320neo and four A321neo to the domestic destinations of: Duqm, Masirah, Muscat, Salalah and Suhar
International destinations include: Alexandria, Bahrain, Baku, Bangkok, Bursa, Chattogram, Dammam, Dhaka, Doha, Dubai, Istanbul, Jaipur, Jeddah, Karachi, Kathmandu, Khartoum, Kuwait, Lucknow, Multan, Phuket, Prague, Riyadh, Sarajevo, Shiraz, Sialkot, Tehran, Trabzon and Trivandrum.
The airline also flies directly from Suhar to Shiraz, Salalah and Calicut, and Trabzon and from Salalah to Calicut.
Latest HD video interviews: Amari Watergate Bangkok – 4K Video Interview with Sukamal Mondal, Area GM, Bangkok Riverside Fest 2023 – 4K Video Interview with Frederic Kolde, Business Travel Trends in Asia Pacific – Video Interview with Brett Thorstad, Sabre.