(27/09/22) Rolls-Royce has delivered the 1,000th BR725 engine to customer Gulfstream Aerospace Corp.
The milestone engine, developed and assembled at the company's business aviation headquarters in Dahlewitz, Germany, has been shipped to Gulfstream in Savannah, Georgia, USA.
Dr. Jörg Au, Chief Engineer Business Aviation, Rolls-Royce, said, "The BR725 engine is a pinnacle of engineering excellence, having accumulated almost 1.5 million engine flying hours over the past decade, while setting new benchmarks for reliability and performance. Reaching the incredible milestone of the 1,000th engine delivery, is a momentous occasion for both Rolls-Royce and Gulfstream, and I couldn't be prouder of the great team behind this product. We are looking forward to delivering many more engines to Gulfstream and to servicing our BR725 customers for decades to come."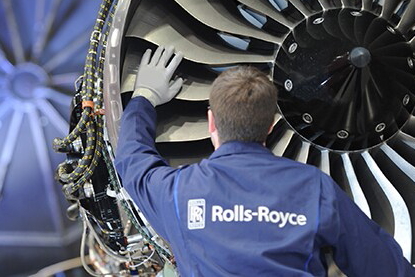 Technician works on a Rolls-Royce engine
The BR725 engine exclusively powers Gulfstream's ultra-long-range Gulfstream G650 and Gulfstream G650ER business aircraft.
The BR725-powered G650 aircraft family holds 120-plus world speed records, including the one for the farthest, fastest flight in business aviation history.
With more than 500 aircraft in service, the G650ER and its sister aircraft, the G650, are among the most trusted business jets in the world.
Dr. Dirk Geisinger, Director Business Aviation, Rolls-Royce, said, "Having delivered 1,000 BR725 engines to Gulfstream is another testament of our leading position in the business aviation market. Our partnership with Gulfstream, that started some 60 years ago, is a real success story and it will continue into the future with the Pearl 700, which powers the Gulfstream G700 and the Gulfstream G800."