(01/11/22) With just days to go until the FIFA World Cup 2022 gets underway in Qatar, senior executives from Qatar Airways, MATAR and FIFA assembled on the tarmac at HIA to highlight a Boeing 777 aircraft painted in a FIFA World Cup Qatar 2022 livery.
"This will be the first FIFA World Cup to take place in the Middle East and the Arab World, and our partners Qatar Airways and Hamad International Airport will play a key role in the delivery of this amazing event," said FIFA President, Gianni Infantino. "They are ready to welcome millions of fans to Doha, showcase the Host Country's unique hospitality, and ensure top-class service and the most memorable experiences, contributing to making this the best FIFA World Cup ever."
In 2017, Qatar Airways announced its partnership with FIFA as the Official Airline. The alliance has gone from strength to strength, with the airline sponsoring numerous tournaments such as the FIFA Confederations Cup 2017, the 2018 FIFA World Cup Russia, the FIFA Club World Cup, and the FIFA Women's World Cup.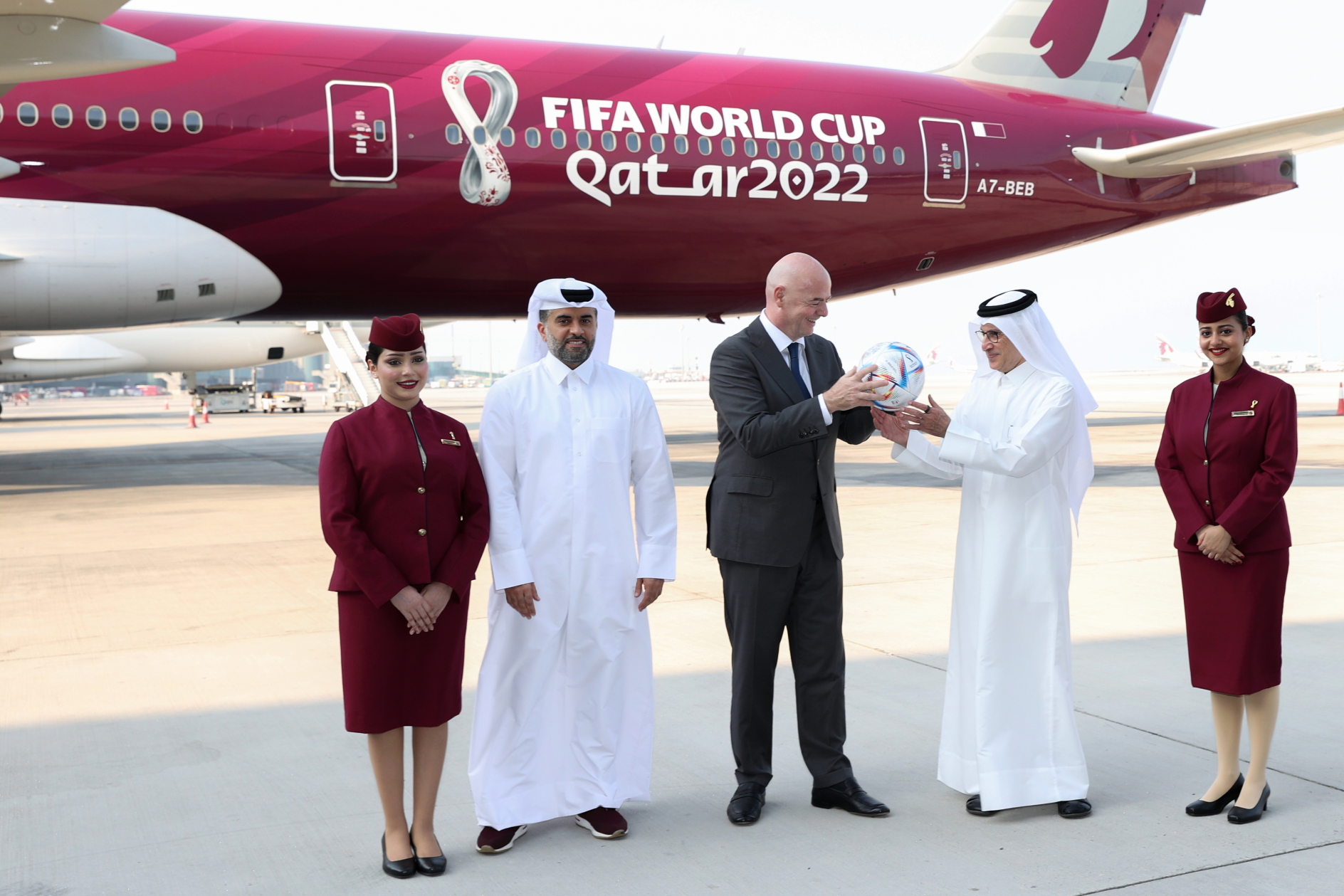 Qatar Airways Boeing 777 sporting a FIFA World Cup Qatar 2022 livery
Akbar Al Baker, Qatar Airways Group Chief Executive, said, "We are here to represent both Qatar Airways and FIFA and our dedication towards playing our role in hosting the first-ever FIFA World Cup in the Middle East. Hosting this tournament is a big achievement for us, and we are ready to unite fans worldwide and provide them with the exceptional experience."
The tournament will be held across eight stadiums designed to invoke the symbols of Arabian culture.
The Al Bayt Stadium will host the opening match with a capacity of 60,000 seats, while Lusail Stadium is set to host the final match of the tournament, with a capacity of 80,000 seats.
The remaining stadiums, which include Ahmad Bin Ali Stadium, Al Janoub Stadium, Khalifa International Stadium, Education City Stadium, Stadium 974 and Al Thumama Stadium, will house 40,000 spectators.
Dedicated Passenger Overflow spaces outside Hamad International Airport and Doha International Airport have been created where football festivities and live entertainment can be enjoyed while also providing storage space for luggage and carry-ons. This space will allow fans to continue enjoying the celebrations before they depart to their respective destinations, at no cost.
Passengers onboard Qatar Airways will be able to enjoy complimentary live streaming of World Cup matches.
Latest HD video interview: Business Travel Trends in Asia Pacific – Video Interview with Brett Thorstad, Sabre.