(30 August 2022, 10:50 +07) Qantas has unveiled plans to upgrade its lounge network with a multi-million dollar investment to build new lounges in Adelaide, Auckland, Port Hedland and Rockhampton.
Qantas has Australia's most extensive lounge network with 35 domestic lounges as well as 16 lounges at International airports across Australia and around the world, including a new First Lounge in Singapore and flagship First Lounges in Sydney and Melbourne.
The airline has reopened almost all of its 51 domestic and international lounges, including its Los Angeles First Lounge earlier this month.
The lounge at Honolulu is scheduled to reopen in coming months after a light refresh to furniture and amenities.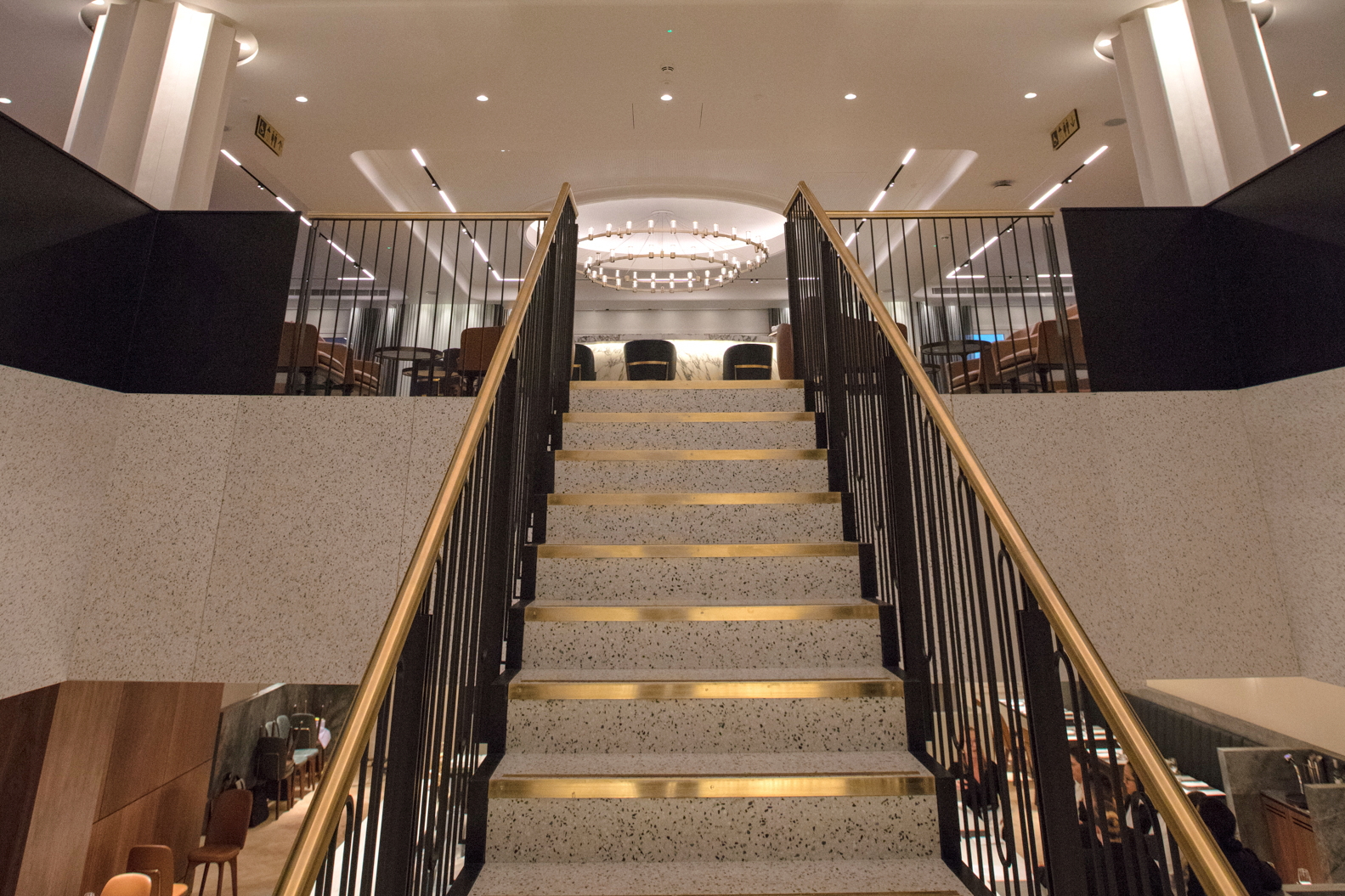 Staircase at Qantas' London Heathrow Lounge
"We know how much our customers value being able to relax before their flight, whether they're flying from a major regional port or an international hub," said Qantas Group CEO, Alan Joyce. "Our new Auckland International lounge will be a step change in comfort. It will offer a lot more space and, like all of our offshore lounges, feature the best of local design, food and wine."
Qantas will completely redesign and expand its existing lounge precinct at Auckland International Airport – plans for which were stalled by the pandemic – to provide a modern pre-flight oasis for customers travelling to-and-from Australia as well as on the new Auckland-New York service.
The existing two lounge spaces will be combined and redeveloped into a single Qantas International Lounge and include a footprint expansion into an adjacent space to increase total capacity by around 40 percent from 244 seats to 340 seats.
Building work will be staged to enable the lounge to operate during the redevelopment. The lounge will offer a number of features specifically tailored for long haul travel, based on positive feedback from other parts of its network.
Qantas will build a new Business Lounge at Adelaide Domestic Airport with a seating capacity for 190, as well as fully upgrade its current Chairmans Lounge and Qantas Club. The new Business Lounge will cater to Qantas' growing business and premium leisure travellers. Total seating capacity across the three lounges will be 570.
The redevelopment of the lounge precinct at Adelaide Airport will begin in the second half of 2023.
Qantas will build a new lounge at Rockhampton Airport as part of its ongoing commitment to invest in regional Australia and as part of the overall airport redevelopment. It will be double the capacity of the existing one, with seating for up to 60 guests, and is expected to open in November this year.
Qantas will redevelop its Port Hedland lounge as part of the broader terminal upgrade. The new lounge footprint will be significantly larger, providing more space to quadruple the lounge capacity to 120 guests to cater for the growing FIFO market. Work will be completed by late 2023.
New Cabin Crew Training Centre
Qantas has also opened a cabin crew training facility – The Longreach Centre – at its Sydney headquarters with the capacity to train up to 200 crew members a day.
It comes as the airline embarks on a recruitment drive for new team members across its regional, domestic and international airlines, with more than 1,600 new cabin crew team members expected to join the national carrier over the next 10 months.
The Longreach Centre features First, Business and Economy aircraft cabins and galleys where new recruits and existing crew undergo service training from cooking in the onboard kitchens to wine and sommelier training.
Recent HD video interviews: Airports, Biometrics and Travel – Interview with Sumesh Patel, SITA President – Asia Pacific, Mövenpick Siam Hotel Na Jomtien Pattaya – Interview with Dmitry Chernyshev, GM, HD Video Interviews from Miss International Queen 2022 in Pattaya, Thailand, Siam@Siam Design Hotel Pattaya – Interview with Clive Nagington, Is Siam Seaplane Ready for Take Off? Interview with Dennis Keller, Chief Business Officer.