(11 September 2022, 10:44 +07) The Government of Poland has selected Boeing's AH-64 Apache for its Kruk Attack Helicopter program.
Boeing delivered the first U.S. Army Apache AH-64A in January 1984. Today, there are currently more than 1,200 AH-64 Apache aircraft in operation accumulating over 4 million flight hours, 1.3 million of which have been in combat.
Not only does the AH-64 Apache represent the backbone of the U.S. Army attack helicopter fleet, Boeing's global customers for the highly respected attack helicopter include Egypt, Greece, India, Indonesia, Israel, Japan, Korea, Kuwait, Netherlands, Qatar, Saudi Arabia, Singapore, United Arab Emirates, United Kingdom and now Poland.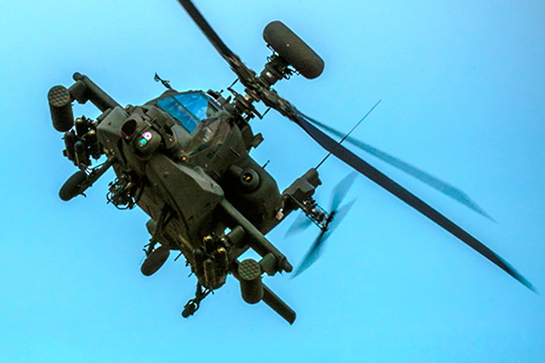 Boeing AH-64 Apache
"Boeing is honored the Government of Poland has selected the AH-64E Apache for the Polish Armed Forces' new attack helicopter fleet," said a Boeing spokesperson. "An Apache selection strengthens U.S-Polish military ties by enhancing interoperability and cooperation between Poland, the U.S. Army and NATO nations. During the procurement process, Boeing established significant cooperative partnerships across Polish government and industry. Our partnership with the Polish Armaments Group in particular will continue to expand as we implement training and sustainment efforts with local industry."
The AH-64E Version 6 is the most modern configuration of the Apache and is ready for the MDO battlefield.
A network-centric, fully integrated weapon system specifically built to dominate in highly contested and complex battle space, the Version 6 Apache includes multiple enhancements to the aircraft's sensors, software and weapons performance.
With the AH-64E in production until at least 2028, the Apache will serve the U.S. Army and partner nations as the world's primary attack helicopter into the 2060s.
Recent HD video interviews: Airports, Biometrics and Travel – Interview with Sumesh Patel, SITA President – Asia Pacific, Mövenpick Siam Hotel Na Jomtien Pattaya – Interview with Dmitry Chernyshev, GM, HD Video Interviews from Miss International Queen 2022 in Pattaya, Thailand, Siam@Siam Design Hotel Pattaya – Interview with Clive Nagington, Is Siam Seaplane Ready for Take Off? Interview with Dennis Keller, Chief Business Officer.