(09/03/23) Norwegian Cruise Line (NCL) has published its 2024/25 itineraries.
The season includes the debut of Norwegian Spirit, Norwegian Sun and Norwegian Sky in Asia, and new ports of call to Manama, Bahrain; Rarotonga, Cook Islands; Sokhna, Egypt; and Akita, Japan.
With these new itineraries, which sail from October 2024 through December 2025, NCL is expanding its voyages to Antarctica, South America, Africa, Asia, Middle East, Australia and New Zealand by 37%, and its Extraordinary Journeys, the brand's collection of immersive and port-rich voyages, by 15%.
Notable itineraries which are now available to book, include: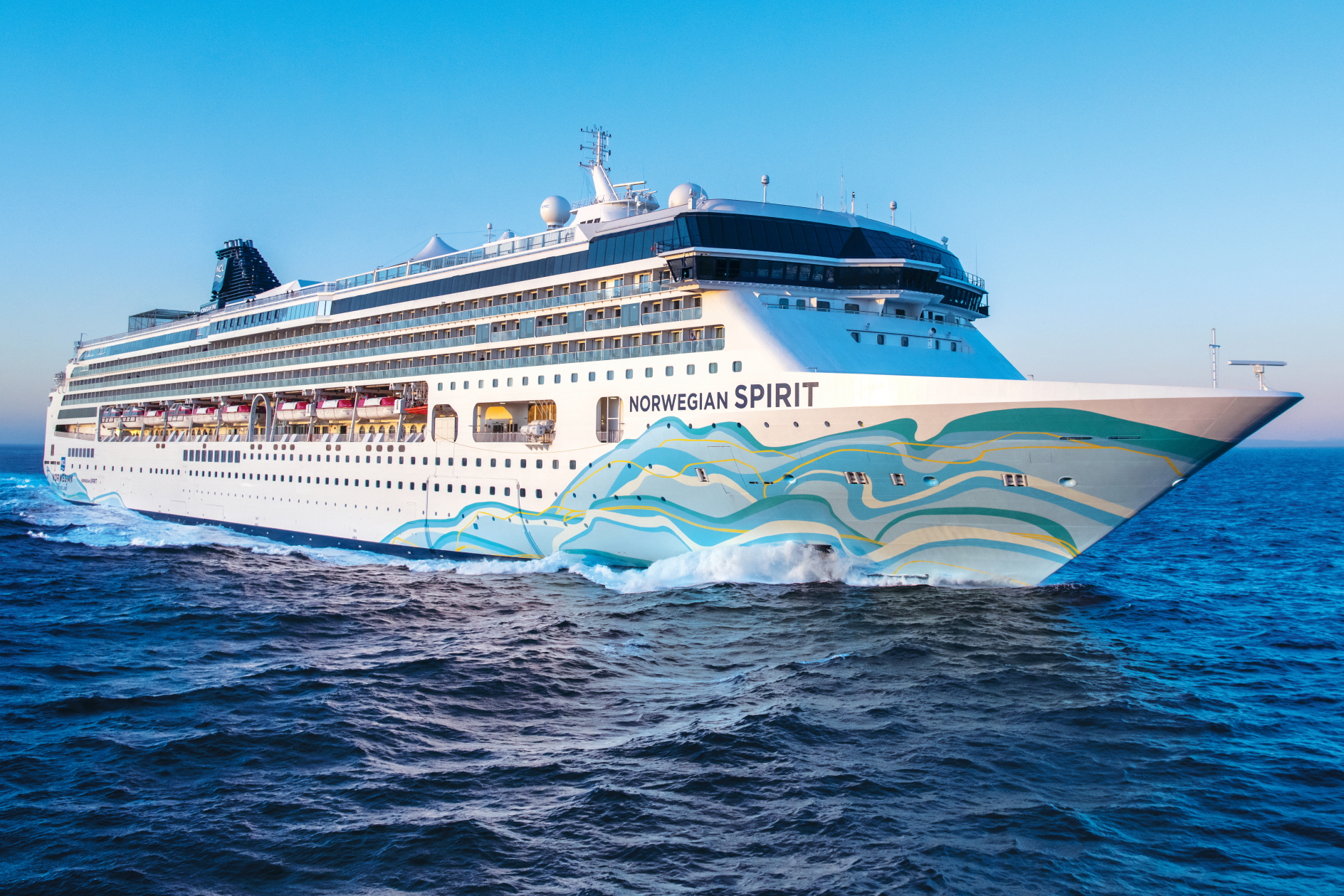 Norwegian Spirit
NCL's first voyage from Ushuaia, Argentina: Norwegian Star will sail a 14-day South America voyage to Brazil and Antarctica departing 1 March 2025, offering a more immersive and port-intensive way to experience South America and cruise to Antarctica.
Embarking from Ushuaia, Argentina, the journey reduces the number of sea days needed for an Antarctica cruise providing more port time for travelers. During the voyage, guests cruise through Paradise Bay in Antarctica and witness the surrounding glacial mountains and local wildlife while also having the opportunity to experience the culture in Puerto Madryn, and Buenos Aires, Argentina; Montevideo and Punta Del Este, Uruguay; and Sao Paulo (Santos).
NCL's maiden call to Bahrain, its first dedicated Middle East sailing: NCL will offer a seven-day Middle East cruise on Norwegian Sun from Doha, Qatar to Dubai, United Arab Emirates (UAE) departing 12 April 2025. An overnight stay in Abu Dhabi, UAE provides travelers with more time to explore the culturally rich destination. In addition, the open-jaw voyage includes visits to Dammam, Saudi Arabia; Manama, Bahrain – a first time visit for NCL; as well as Dubai and Sir Bani Yas, the largest natural island southwest of Abu Dhabi, UAE.
Three NCL ships to Asia for the first time: Together Norwegian Sun and Norwegian Sky will debut in Asia, offering an extensive eight-month season from October 2024 through May 2025, sailing country-intensive voyages in Philippines, Indonesia, Malaysia and Japan – including a collection of coveted Japanese spring cherry blossom and fall foliage itineraries.
For the very first time, NCL will call to Akita, Japan during Norwegian Sun's 12-day round trip sailing from Tokyo, embarking on 23 October 2024.
Both ships will be joined in region by Norwegian Spirit, who will embark on a brand-new repositioning voyage from Australia to Asia on 7 December 2024, followed by her first voyage in Asia on 21 December 2024.
Extraordinary Journeys: NCL's collection of immersive journeys that take guests to lesser-visited and once-in-a-lifetime destinations will include two new back-to-back voyages aboard Norwegian Sky. Departing December 2024, the vessel will offer a 16-day Africa sailing to Seychelles, Kenya, Tanzania, Oman and more during its voyage from Dubai, UAE to Mauritius. Immediately following that, she will offer a 17-day sailing from Mauritius to Singapore with calls to Seychelles, Maldives and Zanzibar.
On 19 April 2025, Norwegian Sun will embark on a 16-day cruise from Dubai, UAE to Haifa, Israel featuring 10 ports of call, including Sokhna, Egypt – a brand-new port for NCL. Visiting Sokhna, Egypt allows for easier access to Cairo, where guests can explore the ancient Great Pyramids of Giza.
Brand new Australian itinerary: Norwegian Spirit returns Down Under for her third season and launches a new 14-day open-jaw voyage from Sydney to Bali via the Queensland coast in December 2024.
The voyage includes calls to Cairns and Darwin, Australia, as well as an overnight visit to Bali (Benoa), Indonesia, providing more time for cruisers to enjoy this exotic destination. In addition, the ship will make the NCL's first port of call to Rarotonga, Cook Islands in November 2025.
Two NCL ships departing from Haifa, Israel: In November 2024, Norwegian Sky will sail a 16-day Middle East Extraordinary Journey from Haifa, Israel to Dubai, UAE, including the unique opportunity for guests to transit the Suez Canal in Egypt. Guests can also choose from an 11-day Mediterranean cruise from Haifa, Israel to Istanbul, Turkey aboard Norwegian Sun. Departing 5 May 2025, the voyage will call to sought-after destinations in Greece, Turkey and Egypt.
"Our guests are craving longer, immersive and more unique itineraries that take them off the beaten path," said Harry Sommer, President and CEO of NCL. "These new sailings represent the most diverse itinerary program to date and feature many brand firsts, including an extended Asia offering and new ports in Argentina, Bahrain, Japan and Egypt. Coupled with NCL's renowned onboard experiences – from spacious accommodations, exceptional entertainment and diverse dining options that rival land-based offerings, it truly is an unforgettable way to explore the world."
Latest videos: Noise Cancelling Ear Plugs for a Perfect Night's Sleep, Running Lights – Lumefit Premium 360° Reflective Vest Review, Steven Howard Outlines Travel News Asia's Video and Podcast Plans for 2023, Amari Watergate Bangkok – 4K Video Interview with Sukamal Mondal, Area GM.