(05/10/22) Several new features have been added to the myCWT platform, making it easier for business travelers and travel managers to plan and organise trips, collaborate with their colleagues, and cope any complications.
The new share-a-trip feature, designed to facilitate team travel, lets travelers give colleagues a real-time view of their itinerary via the myCWT web portal and mobile app. Recipients can see the traveler's flight and hotel details, including any changes in the itinerary after the trip has been shared.
Later this year, travelers who want to join their colleagues on a trip will be able to replicate a shared itinerary by shopping for the same flights and hotels with the click of a button, further streamlining the booking process for teams traveling together.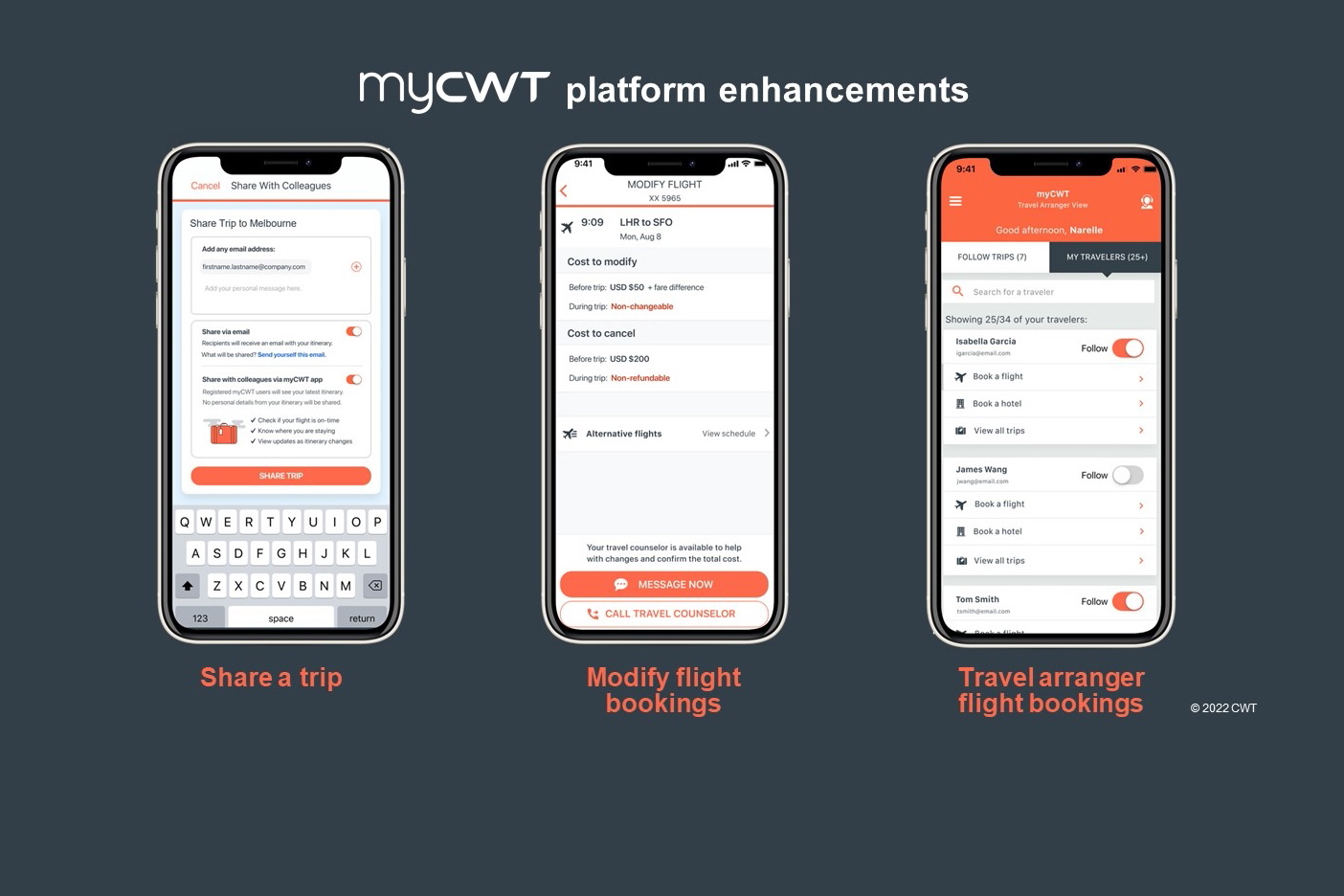 CWT continues to upgrade its myCWT platform with new features
Flight booking modifications are also being simplified. Enhancements to the myCWT web and mobile channels will allow travelers to quickly view the change and cancellation rules, shop for alternative flights and understand the cost of changing their booking.
Meanwhile, travel managers can now search and book flights on behalf of their colleagues using the myCWT web portal and mobile app.
When a travel manager selects a traveler in the system, that traveler's policy information and loyalty programs are automatically pulled from their CWT profile and applied to the booking.
Travel managers can already make hotel bookings via the myCWT web and mobile channels, while car rental and train booking capabilities for travel arrangers are expected to be added in the near future.
"Creating a seamless and productive digital experience remains a central focus of our innovation efforts," said Erica Antony, CWT's Chief Product Officer. "These latest enhancements to our platform will facilitate better collaboration between colleagues as the nature and purpose of business trips continues to evolve. For example, with remote and hybrid working becoming the norm, we expect people will travel more for small meetings to get some face-time with their teams, increasing the importance of simple ways to coordinate itineraries and make changes quickly on the go."
The enhancements are part of the company's US$100 million investment to upgrade the myCWT travel management platform.