(09/11/22) Marriott has expanded its portfolio of Moxy hotels in America with the opening of the Moxy Lower East Side, the fourth Moxy hotel in New York City developed by Lightstone.
Inspired by the Lower East Side's history as a crossroads of entertainment and culture, as well as its present day role as an incubator of innovation, the 303-room hotel is located where the Lower East Side meets SoHo.
The hotel's interiors were done by Michaelis Boyd and Rockwell Group, while architectural work was handled by Stonehill Taylor.
The property features five new F&B outlets created in collaboration with Tao Group Hospitality, bringing the area's dynamic restaurant and nightlife scenes under one roof.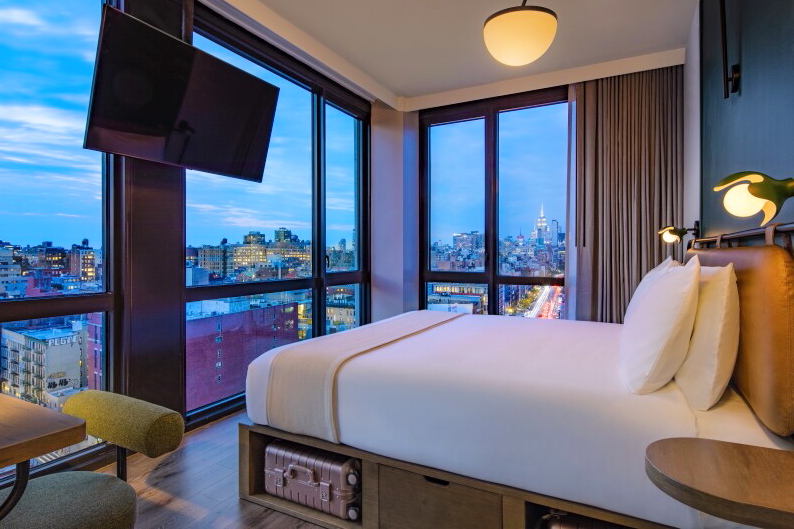 Executive City View Room at Moxy Lower East Side, New York
Among them are Sake No Hana, a Japanese restaurant; Silver Lining, a piano lounge; The Highlight Room, a rooftop bar; The Fix, an all-day café and lobby bar; and Loosie's, a subterranean club.
"New York City is experiencing a huge renaissance right now, with locals and visitors coming to experience the city in waves," said Noah Tepperberg, Co-CEO of Tao Group Hospitality. "With a sophisticated but approachable piano lounge, a pulsating subterranean club, a modern Japanese restaurant with a festive atmosphere, and a rooftop bar with a big glam factor, Moxy Lower East Side will be ready to rock."
Rooms range from 165-195 sqft and include Kings, Executive Kings, Double Doubles and Quads. Bathrooms feature rain showers with colored glass doors, lava stone sinks, and a mirror lined with Hollywood-style lighting
In addition to the numerous F&B outlets, other hotel facilities include over 13,000 square feet of flexible meeting and event space, contactless self-service check-in kiosks and a 24-hour fitness center with a mixture of equipment, free weights and Pelotons.
"The Lower East Side has always been iconically cool. We saw it as the next logical frontier for Moxy," said Mitchell Hochberg, President of Lightstone. "By providing a stunning variety of venues and concepts under a single roof, the hotel really embodies the diversity of the Lower East Side. People come to the neighborhood to indulge their thirst for discovery, and they'll get that at the Moxy too – and we've made it accessible rather than exclusive."
Moxy Lower East Side is Lightstone's fourth Moxy hotel opening in New York City, following the successful launches of Moxy Times Square, Moxy Chelsea and Moxy East Village.
Lightstone also opened Moxy South Beach in Miami in 2021, while Moxy Williamsburg in Brooklyn, New York and Moxy Downtown Los Angeles and AC Hotel Downtown Los Angeles are scheduled to open in the coming months.
Latest HD video interviews: Bangkok Riverside Fest 2023 – 4K Video Interview with Frederic Kolde, Business Travel Trends in Asia Pacific – Video Interview with Brett Thorstad, Sabre.