(06/03/23) Finnair will celebrate its first centenary in November 2023.
To highlight the 100-year milestone, the airline is featuring the beloved Moomin characters as the livery of two widebody aircraft for the duration of the year.
A picture of Moomintroll and Snorkmaiden features on the two Airbus A350 aircraft: OH-LWP and OH-LWO, which will fly to various long-haul destinations such as Dallas, Tokyo and Bangkok.
The new centenary livery was taped by HAECO in Hong Kong.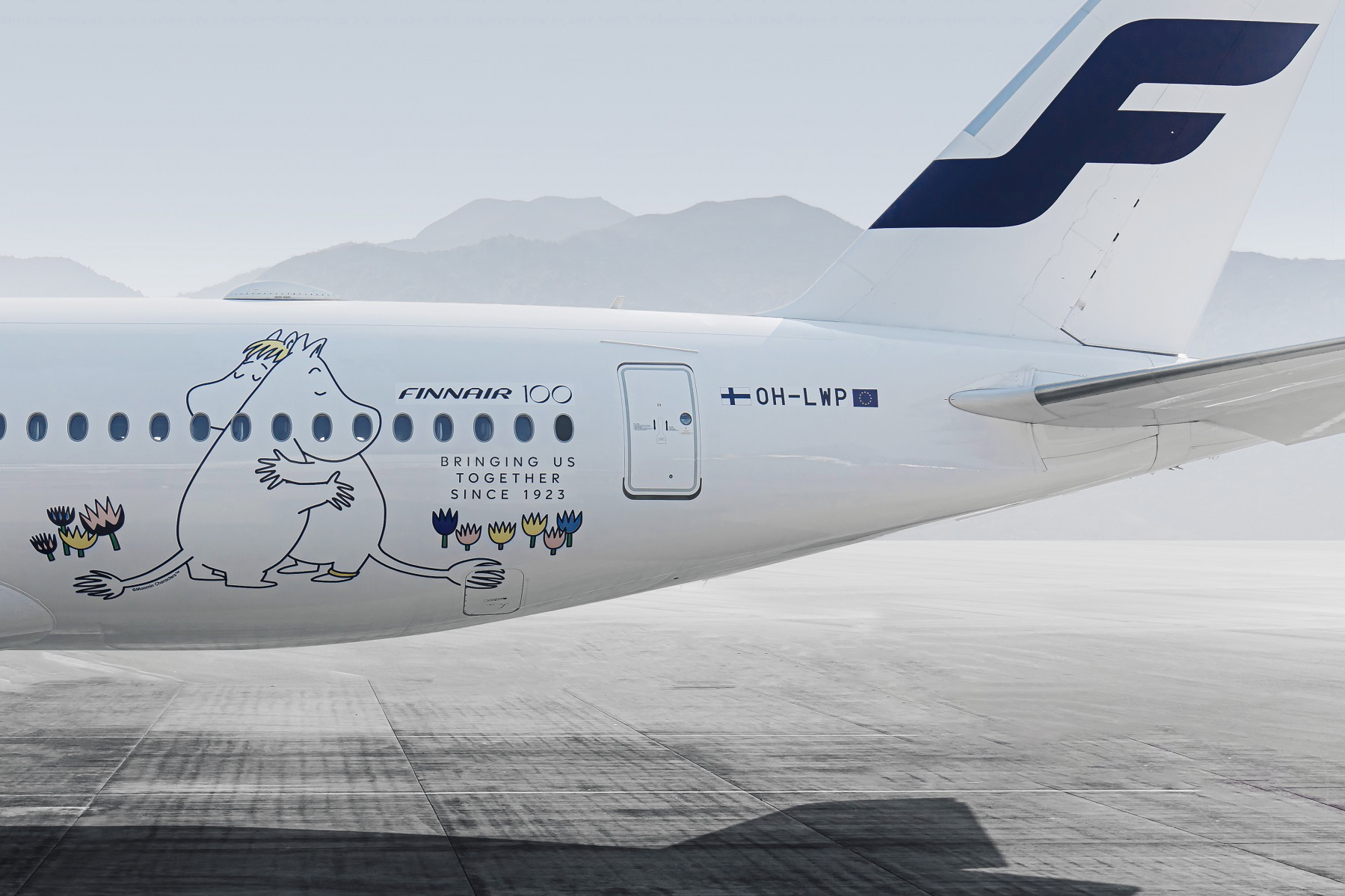 Finnair has unveiled two special A350 liveries featuring Moomin characters
"Finnair is one of Moomin's major licensees and we've been working together since the 1990s. We're very happy to see this collaboration extended with the new Moomin livery on Finnair aircraft," said Roleff Kråkström, Managing Director of Moomin Characters. "Moomin is a character-brand grounded in the universal and timeless values of tolerance, acceptance and friendship upon which Nordic societies are built. These are the values that come to life in the Moomin embrace depicted in the Finnair 100 livery."
In addition to the Moomin livery, Finnair Technical Operations in Helsinki have painted the centenary slogan "Bringing us together since 1923" on three other aircraft: OH-LWR (A350), OH-LXM (A320) and OH-LXK (A320).
Finnair is inviting all Moomin and aviation fans to share photos and videos of the Moomin livery on Instagram with the hash tag #finnairmoomin. Finnair will reward one lucky content producer with two Business Class flights to either Tokyo or Helsinki.
"Finnair's mission is to enrich life by bridging the world. This is also the theme of our centenary. Moomins represent friendship, community and going on adventures together, so they are a great fit for our values," said Finnair's CEO, Topi Manner. "Customers will be able to see the centenary in many ways throughout 2023, as we remember our heritage and look forward to the next 100 years."
Last time the Moomins were seen on a Finnair aircraft livery was in the mid-1990s.
Latest videos: Noise Cancelling Ear Plugs for a Perfect Night's Sleep, Running Lights – Lumefit Premium 360° Reflective Vest Review, Steven Howard Outlines Travel News Asia's Video and Podcast Plans for 2023, Amari Watergate Bangkok – 4K Video Interview with Sukamal Mondal, Area GM.