(21/12/22) Marriott has opened a resort on the Palm Jumeirah in Dubai.
The Marriott Resort Palm Jumeirah, Dubai is located along the island's golden West Beach across over 75,000 square feet of white sand seafront.
The resort's 608 guestrooms and suites feature floor-to-ceiling ocean views, private balconies and thoughtful in-room comforts such as a pillow menu, mood lighting, a top-of-the-range entertainment system, and large bathtubs.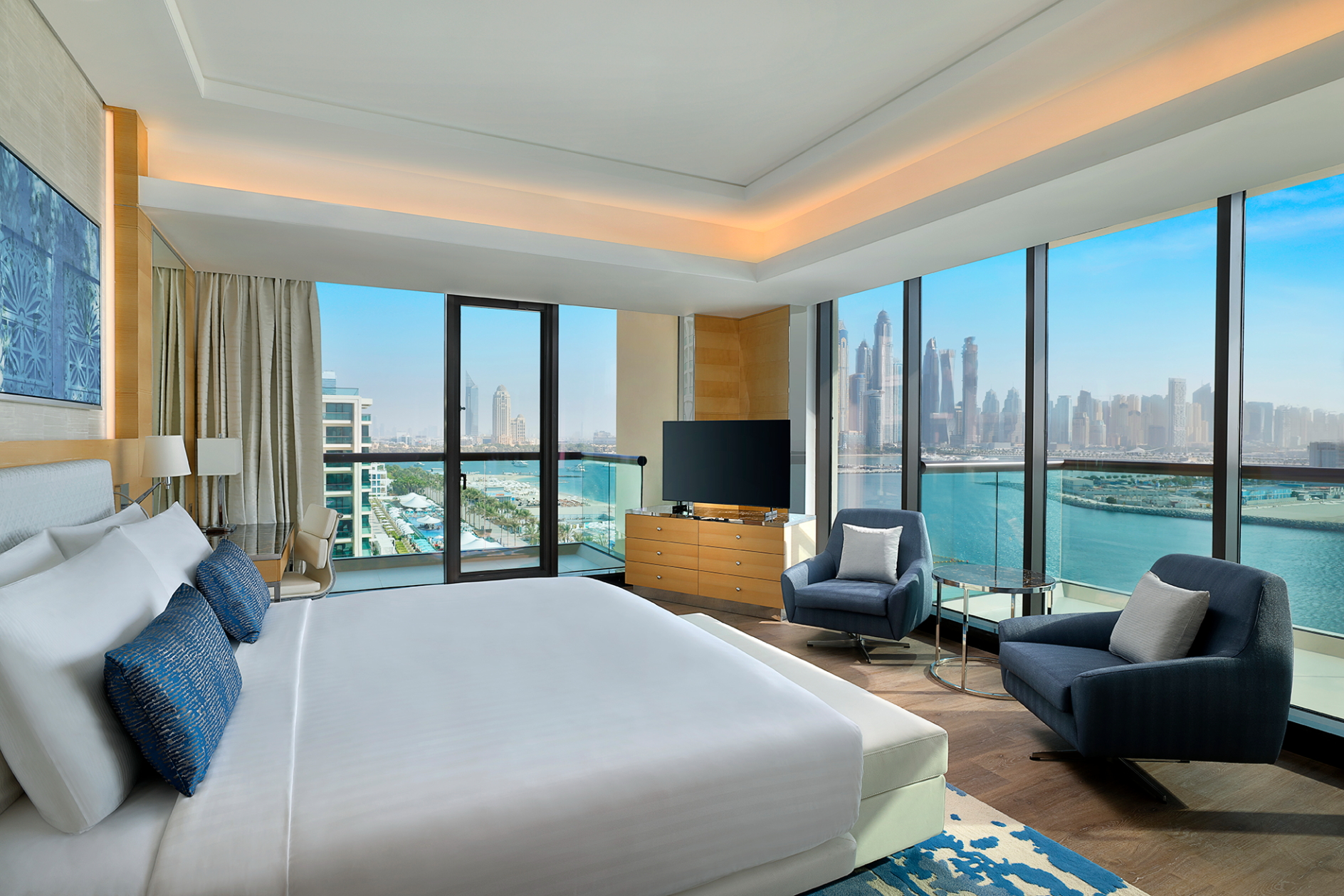 Palm Suite Bedroom at Marriott Resort Palm Jumeirah, Dubai
Interconnecting rooms reflect the resort's flexibility and focus on family stays, while the spacious two-bedroom suites offer separate living, sleeping and dining spaces for those looking for that little extra luxury and comfort.
The property boasts an extensive choice of F&B outlets, a large swimming pool, kids club, spa and fitness center, as well as a choice of water sports and other marine activities.
For meetings and events the resort has more than 20,000 square feet of event space, 11 venues including a Majlis, and over 10,000 square feet of sea view outdoor terrace space to choose from.
"From our industry-leading business and leisure facilities, incredible dining options, wide-ranging recreational activities, well-equipped rooms, and heartfelt service, we provide enriching guest experiences that will exceed expectations at all times and on all levels," said Gerrit Schmitt, General Manager, Marriott Resort Palm Jumeirah, Dubai. "We look forward to welcoming guests to our new beachside resort."
As the property is currently in what is known as soft opening, some of the F&B outlets as well as the spa and some other facilities will not open until 2023. Travellers should contact the hotel directly to get an update as to what exactly is available for the dates they wish to stay.
Latest HD video interviews: Amari Watergate Bangkok – 4K Video Interview with Sukamal Mondal, Area GM, Bangkok Riverside Fest 2023 – 4K Video Interview with Frederic Kolde, Business Travel Trends in Asia Pacific – Video Interview with Brett Thorstad, Sabre.