(04/01/23) Marriott has expanded its portfolio of AC Hotels with the opening of the brand's first property in Greater China.
The AC Hotel by Marriott Suzhou is situated in the heart of the city's historic Gusu District, home to a rich cultural legacy best exemplified by its Classical Chinese Gardens inscribed on the UNESCO World Heritage List.
Known as "Venice of the East," Suzhou is an ancient water town filled with elegant waterways, quaint alleyways and peaceful pavilions.
The hotel provides easy access to public transportation, with Beisi Pagoda Metro Station within walking distance and Suzhou Railway Station just 2.5 kilometers away. The 30-minute high-speed train from Shanghai makes it convenient for guests to travel between the two cities.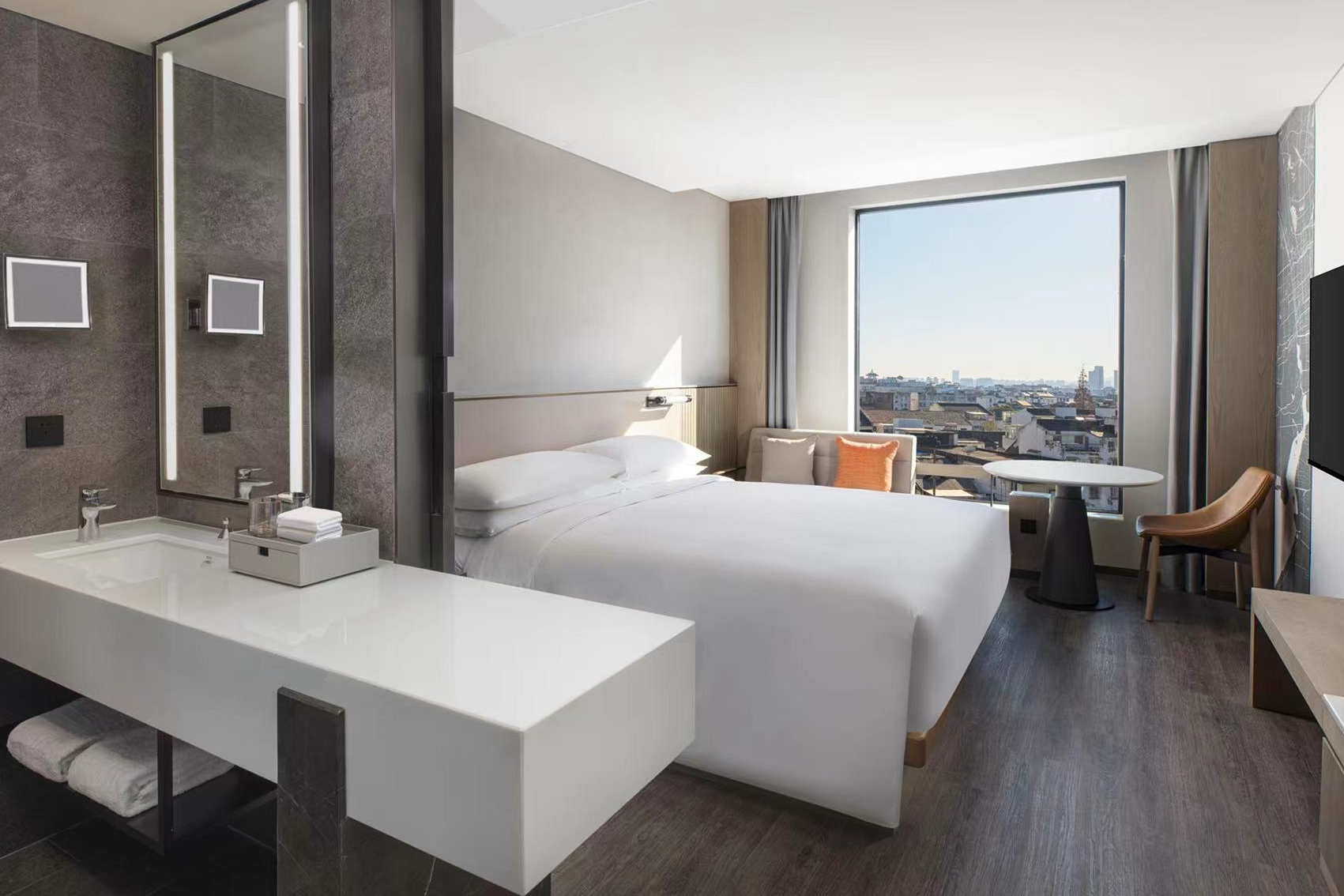 Room at the AC Hotel by Marriott Suzhou
"We are excited to bring AC Hotels by Marriott to Greater China, making it the seventh brand in our Select Brands portfolio in the region, offering diverse experiences for travelers and locals alike," said Matthew Boettcher, Vice President and Global Brand Leader, Distinctive Select Brand Portfolio, Marriott International. "Suzhou is renowned for its postcard-perfect water channels and canals, home to some exquisitely designed Classical Chinese Gardens that strike a balance of function and beauty, making it the ideal destination to debut the design-driven AC Hotels brand in the country. AC Hotel by Marriott Suzhou will create a seamless guest experience that attracts discerning travelers, providing everything they need and nothing they don't."
The hotel's 135 guest rooms and suites include five garden rooms that feature a private outdoor garden. All rooms feature a 55-inch high-definition LCD television, a walk-in shower and complimentary high-speed Wi-Fi.
Facilities at the hotel include an all-day dining restaurant, a 24-hour fitness center, a 50-sqm meeting/event space, a lounge and outdoor terrace that transforms into a bar at night.
"We are delighted to celebrate the opening of AC Hotels' first property in Greater China. Blending AC's signature design and concept with Suzhou-style aesthetics, we are proud to showcase the city's uniqueness to our guests," said Vincent Li, General Manager of AC Hotel by Marriott Suzhou. "We look forward to welcoming guests to our purposefully designed spaces and curated experiences the brand is known for."
There are currently over 215 AC hotels in 30 countries and territories.
Latest HD video interviews: Amari Watergate Bangkok – 4K Video Interview with Sukamal Mondal, Area GM, Bangkok Riverside Fest 2023 – 4K Video Interview with Frederic Kolde, Business Travel Trends in Asia Pacific – Video Interview with Brett Thorstad, Sabre.