(24/11/22) Hong Kong will host the 2022 Asia Triathlon Youth Championship at Plover Cove in Tai Mei Tuk on Sunday.
The event, which attracts elite triathletes from all around the world, marks the return of international triathlons to the city after a hiatus of over 3 years.
Over 150 overseas and local participants are expected to take part, with triathletes flying in from countries such as India, Kazakhstan, Singapore, Taipei and Thailand, to name but a few.
Nineteen elite athletes from the Hong Kong Triathlon National Squad will compete in the championship, with 11 of them making their first international appearance.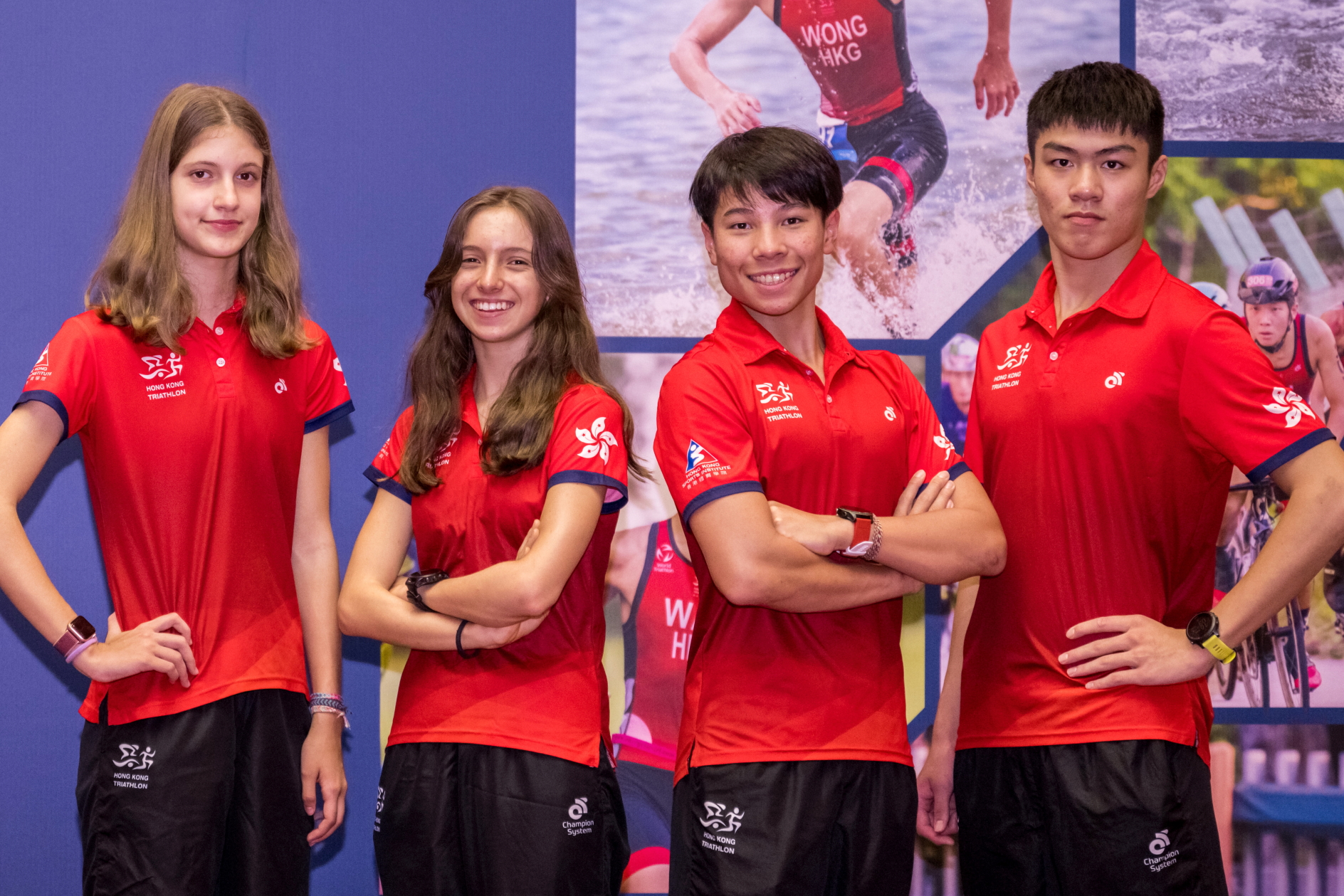 Hong Kong Triathlon National Squad Members (from left): Petra Stamenovic, Pauline Courret, Dominic WT Carson and Chan Yui Fung
In order to promote triathlon and encourage wider participation, the organiser has specially arranged a shorter Mini Distance race category for younger participants born between 2009 and 2012 to provide a platform for them to experience triathlon and develop an interest in exercising.
In addition, Hong Kong hosting Asia's first Super Sprint Distance Elite U15 race has extended the opportunity for young triathletes to participate in international races, furthering the youth triathlon development in the city.
Both category races are scheduled to commence in the morning of 27 November.
Elite group athletes and those aged 14 – 17 participating in the Super Sprint Distance are required to complete swim (375 m), bike (6 km) and run (2.5 km); while athletes in the Mini Distance category will complete a shorter distance of swim (250m), bike (6km) and run (1.5km).
Genevieve Pong, President of the Hong Kong Triathlon Association, said, "It is great to see the return of major sports events. In addition to holding this year's Asia Triathlon Youth Championship, we also hope to continue hosting different international triathlon events. We are grateful to see the championship as a growing platform to promote Triathlon and gives local elites the opportunity to shine in front of local audiences. Wishing all athletes a smooth competition and great performance."
The Hong Kong Triathlon National Squad has achieved great results in recent years. The Hong Kong team even managed to bag the first-ever team silver medal in the mixed relay event at the Asia Triathlon Championships 2022 held in Kazakhstan.
While the 2022 Asia Triathlon Youth Championship is held in Hong Kong, other National Squad members are also competing around the world, racing in the World Triathlon Age-Group Championship Abu Dhabi and Asia Triathlon Cup Ipoh to strive for good results.
Latest HD video interviews: Amari Watergate Bangkok – 4K Video Interview with Sukamal Mondal, Area GM, Bangkok Riverside Fest 2023 – 4K Video Interview with Frederic Kolde, Business Travel Trends in Asia Pacific – Video Interview with Brett Thorstad, Sabre.