(13/10/22) Hyatt has expanded its portfolio of hotels in India with the opening of the first Hyatt Place in Rajasthan, the brand's seventh in India.
The Hyatt Place Jaipur Malviya Nagar, developed by Heritage Motels, is located 10 minutes from Jaipur International Airport (JAI) and close to the core business district of the city, within easy reach of major tourist destinations and shopping malls.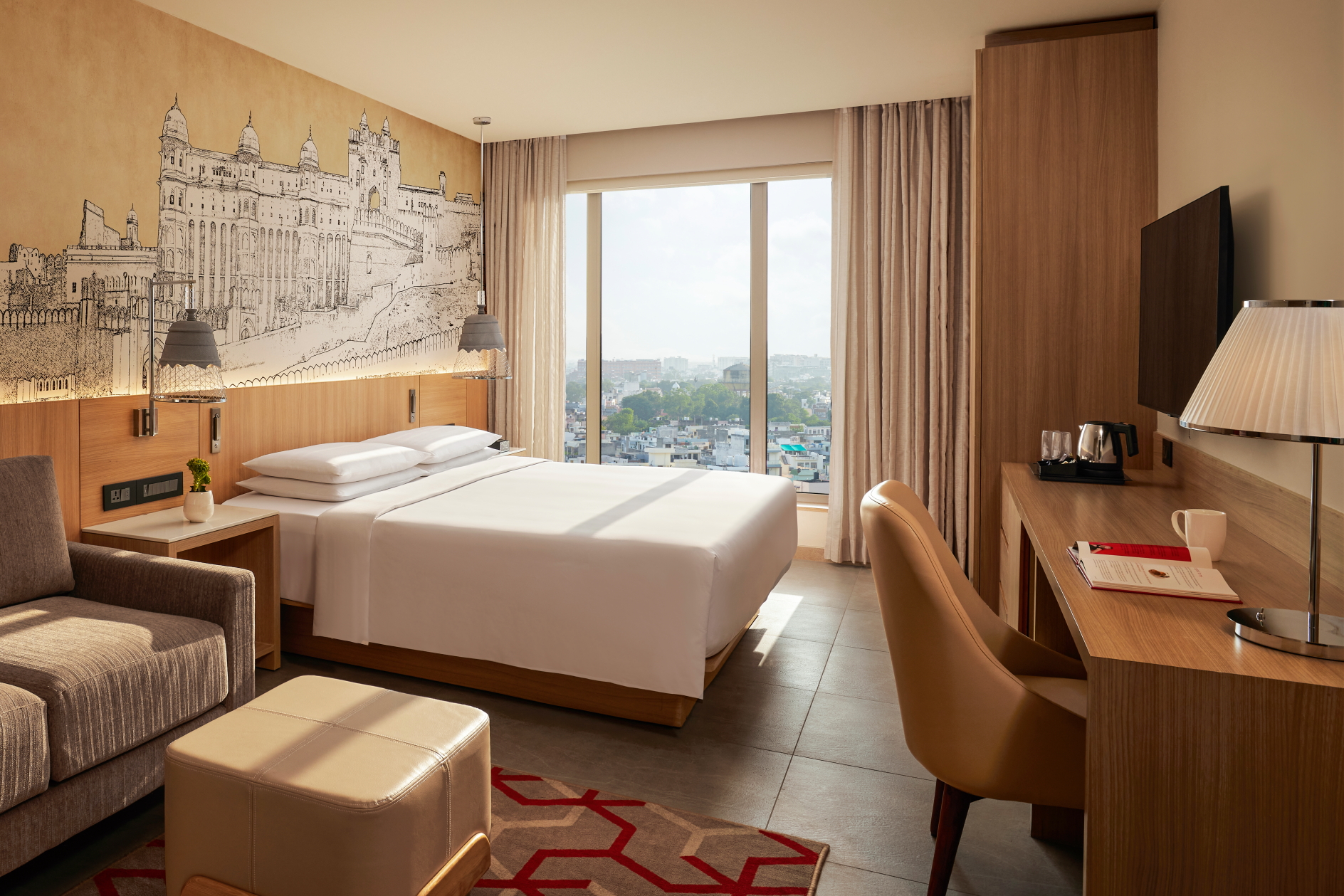 Room at Hyatt Place Jaipur Malviya Nagar
"As Jaipur continues to grow and thrive economically, we are excited to offer travelers an international experience through the first Hyatt Place hotel in the city," said Sunjae Sharma, Managing Director, India & South West Asia, Hyatt. "With our smartly designed social spaces and guestrooms with separate work and sleep areas, our multitasking guests can easily accomplish what they need while on the road. This hotel also marks our aggressive expansion plans for the Hyatt Place brand in India, making it our seventh Hyatt Place hotel in the country."
The Hyatt Place Jaipur Malviya Nagar features 116 guestrooms which have separate spaces to sleep, work and relax. Suites also include a private outdoor space which features a whirlpool.
Facilities at the hotel include all-day dining, an open-air bar with cabana seating, 6,626 square feet of flexible meeting and event space, a fitness center with cardio equipment and a rooftop swimming pool.
"Jaipur is a vibrant city, filled with friendly people, great neighborhoods and an ever-expanding list of interesting places to visit and things to do or see," said Shul Ambwani, General Manager Hyatt Place Jaipur Malviya Nagar. "Our hotel is central to all of them, and we are confident that Hyatt Place Jaipur Malviya Nagar will exceed guests' expectations and provide them with everything they need while visiting our hotel. The hotel design aesthetics capture the essence of Rajasthan that promise to create an authentic and engaging atmosphere for our guests."