(17/10/22) Hyatt has expanded its portfolio of hotels in Japan with the opening of the Fuji Speedway Hotel in Shizuoka, the first Unbound Collection by Hyatt property in the country.
Flanked by the breathtaking vista of Mount Fuji and the adrenaline-fueled Fuji Speedway race circuit, the hotel – one of several attractions in the new Fuji Motorsports Forest project developed by Toyota – is approximately 80 minutes by car from Tokyo.
Located adjacent to the historic Fuji Speedway motor racing circuit which hosts world-class racing events, the hotel also houses the Fuji Motor Sports Museum, which showcases about 40 racing cars dating from the end of the 19th century.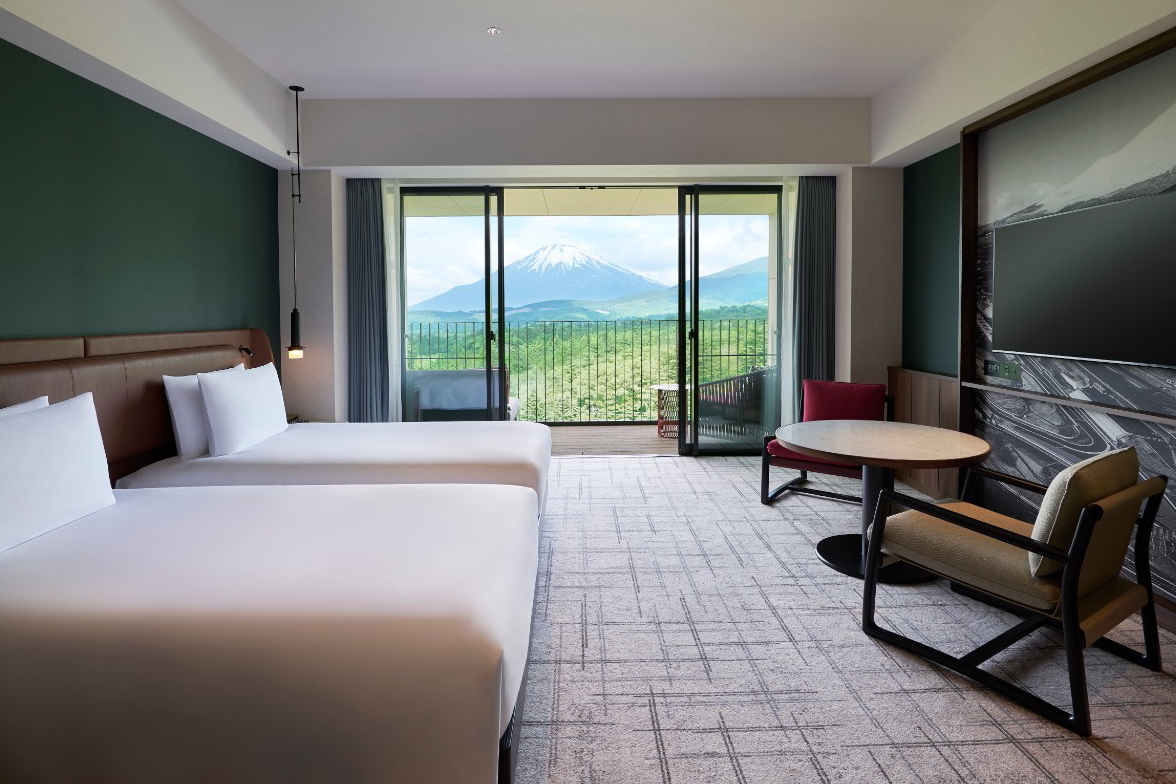 Room at Fuji Speedway Hotel in Shizuoka, Japan
The hotel features 120 rooms, including 21 suites, all with private balconies offering views of Fuji Speedway race circuit or Mount Fuji.
The five dog-friendly villas at the property have individual private garages with floor-to-ceiling windows on one side for proud owners to admire their vehicles while in residence.
Tomohide Yamamura, President of Toyota Fudosan, said, "Fuji Speedway Hotel epitomizes the brand's hallmark for worldly, unforgettable memories, and I believe it is the brand that best encapsulates the appeal of the Fuji Motorsports Forest. We hope this hotel will become a place loved by people all over Japan and across the world."
Facilities at the hotel include two restaurants and a bar, a variety of meeting and event spaces, a spa and wellness centre with indoor pool, indoor and outdoor hot spring onsens, and a fitness center which even has a state-of-the-art driving simulator designed for professional race car drivers that is accessible for guests.
In addition to the race circuit, attractions close to the hotel include Mount Fuji, an UNESCO World Heritage Cultural Site that is home to sacred venues such as the Fuji Sengen-jinja shrines, the Shiraito-no-taki waterfalls, and the Fujigoko five lakes that surround the foot of the mountain. Also close by is Mishima Skywalk, Japan's longest suspension footbridge, and an open-air premium outlet shopping mall.
David Udell, Group President Asia Pacific, Hyatt Hotels Corporation, said, "We are truly honored that Toyota Fudosan, an affiliate of the Toyota Group, has chosen Hyatt and The Unbound Collection by Hyatt brand as a key component of their Fuji Motorsports Forest project – the first hotel that Toyota has developed in collaboration with Hyatt. With the much-anticipated reopening of Japan's borders, Fuji Speedway Hotel will provide overseas visitors and local residents with a memorable, one-of-a-kind experience, blending the excitement of motorsports and the luxury of a boutique hotel in the beautiful countryside."
Latest HD video interview: Business Travel Trends in Asia Pacific – Video Interview with Brett Thorstad, Sabre.