(04 September 2022, 10:26 +07) HMD Asia has partnered with Kathmandu-based Sherpa Hospitality Group to open the first Shinta Mani hotel outside of Cambodia.
The 29-suite Shinta Mani Mustang – a Bensley Collection luxury lodge is scheduled to open on 1 March 2023.
Sokoun Chanpreda, Managing Director of HMD Asia, said, "We are delighted to be entering into this agreement with the Sherpa Hospitality Group and highly value our partnership with them. We have incredible synergies between our brands and look forward to a fruitful and successful alliance in this unique and very special destination."
In Tibetan, "Mustang" translates to "Plain of Aspiration" and has been chosen as the name of the resort as it is bordered by the Tibetan plateau with an elevation that rises from 1,372 to 8,167 meters above sea level.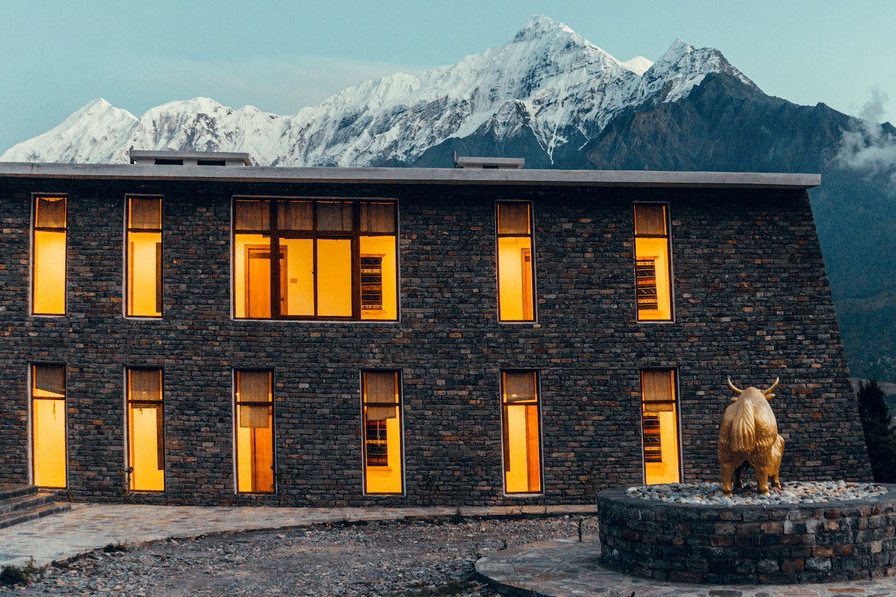 Shinta Mani Mustang
Each of the 29 suites measuring 45 square meters (2,484 square feet), are designed in the style of a traditional Tibetan home with an open-plan bedroom combined with a living area and a separate bathroom. Floor to ceiling windows offer views of the Nilgiri mountain.
Facilities at the hotel include a restaurant with a large outdoor dining patio; a bar; wellness center with two treatment suites, a hot plunge pool, steam room, sauna and shower; and a mixed use meeting / activity room.
A selection of unique excursions enables guests to do a different trip every day for up to two weeks; including trekking, horse riding, rock climbing, cycling, archery, hiking, helicopter tours, wellness and more.
Namgyal Sherpa, Owner of Sherpa Hospitality Group, said, "Our group has been promoting experiential travel in remote areas of Nepal for many years now. It was our dream to create world class, luxury hotel experiences in the Himalayas and we couldn't find a better partner than Shinta Mani Hotels to collaborate with on this vision as we share similar values. We are very excited to be pushing the boundaries and creating a new and exciting project that will position Nepal as a quality, luxury destination and not just for budget traveller."
In keeping with Shinta Mani's philosophy of giving back to the communities in which they operate, the Shinta Mani Mustang will work closely with the Psang Lhamu Foundation which was founded by the owning family after their mother became the first Nepalese woman to blaze a trail to the summit of Mt Everest in 1993.
The foundation is a non-profit, non-political, non-government organization with the core pillars of Education, Vocation Training, Health and Immediate Assistance.
Rates at the all-inclusive Shinta Mani Mustang will start from US$1,700 per couple, per night for a minimum 5-night stay, plus applicable service charge and government taxes.
Rates are inclusive of all food and beverage; private guided activities and excursions; unlimited spa treatments; personal Bensley Adventure Guide and transfers between Kathmandu and Jomson (by air or air and road). Helicopter transfers and private chartered flights are available for extra. Rates are valid to 31 March 2024.
Scheduled flights operate via Kathmandu direct or via Pokhara to Jomson, from which it is a short drive to the hotel.
Recent HD video interviews: Airports, Biometrics and Travel – Interview with Sumesh Patel, SITA President – Asia Pacific, Mövenpick Siam Hotel Na Jomtien Pattaya – Interview with Dmitry Chernyshev, GM, HD Video Interviews from Miss International Queen 2022 in Pattaya, Thailand, Siam@Siam Design Hotel Pattaya – Interview with Clive Nagington, Is Siam Seaplane Ready for Take Off? Interview with Dennis Keller, Chief Business Officer.