(18/10/22) Embraer has confirmed that FlightSafety will offer a new full-flight simulator (FFS) for Praetor 500 and Praetor 600 jets to meet the growing demand for pilot training with these models.
The simulator, which is the third for the Praetor 500 and Praetor 600 established by FlightSafety, will be located in Orlando, Florida to serve the growing fleet of over 200 aircraft in the Praetor platform.
Operations will begin in the second quarter of 2023.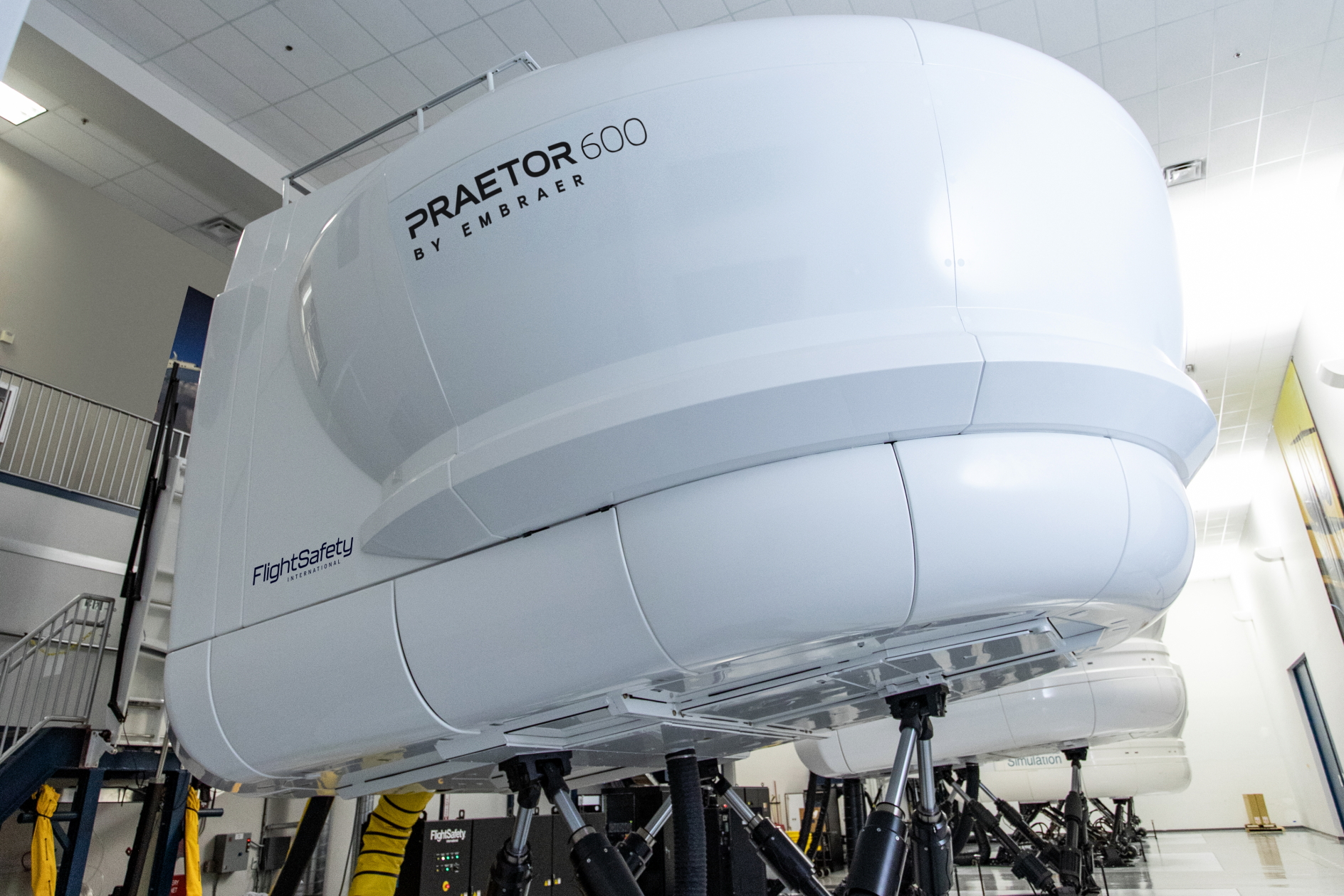 FlightSafety Embraer Praetor FFS
"With Praetor jet deliveries increasing consistently, we have realized the need to offer additional capacity for training to our customers worldwide. The new full-flight simulator will provide Embraer's customers with the latest technological aircraft updates, bringing the highest level of service to the market," said Johann Bordais, President & CEO, Embraer Services & Support.
The FFS in Orlando will be located about one hour from the Embraer Executive Jets headquarters in Melbourne, Florida. The region was chosen as it has a high concentration of aircraft and operators, offers a comprehensive network of hotels and attractions, and is easily accessible from domestic and international locations.
"FlightSafety is pleased to offer expanded capacity at a customer-centric location for the growing fleet of Praetor operators," said Nate Speiser, Executive Vice President of FlightSafety Sales and Marketing. "FlightSafety has trained over 5,000 Praetor pilots since partnering with Embraer on this aircraft in 2015, and this program is a key element of our 33-year relationship with Embraer on aircrew training."
The Praetor 500 is one of the fastest midsize aircraft. With a range of 3,340nm, the aircraft is capable of reaching Europe from the west coast of the U.S. with a single stop.
The super-midsize Praetor 600 business jet has a range of 4,018 nm, allowing nonstop flights between London and New York.
Latest HD video interview: Business Travel Trends in Asia Pacific – Video Interview with Brett Thorstad, Sabre.