(12 September 2022, 04:45 +07) Fiji were crowned Rugby World Cup Sevens 2022 champions in Cape Town, South Africa on Sunday.
Double Olympic champions Fiji beat New Zealand 29-12 in the men's final, while Ireland made history to win bronze with a 19-14 victory over Australia thanks to tries from Sean Cribbin, Harry Mcnulty And Terry Kennedy.
Ireland's Terry Kennedy, who was the top try scorer on the 2023 World Series, said, "Oh my God, it is incredible! We never fail to surprise, every time our backs are against the wall, we stand up. It was a tough loss today against New Zealand in the semis, so to come out there and put on that performance was unbelievable. It was a huge effort from our forwards, they carried us so well throughout the tournament and thankfully we got a couple of scores at the end."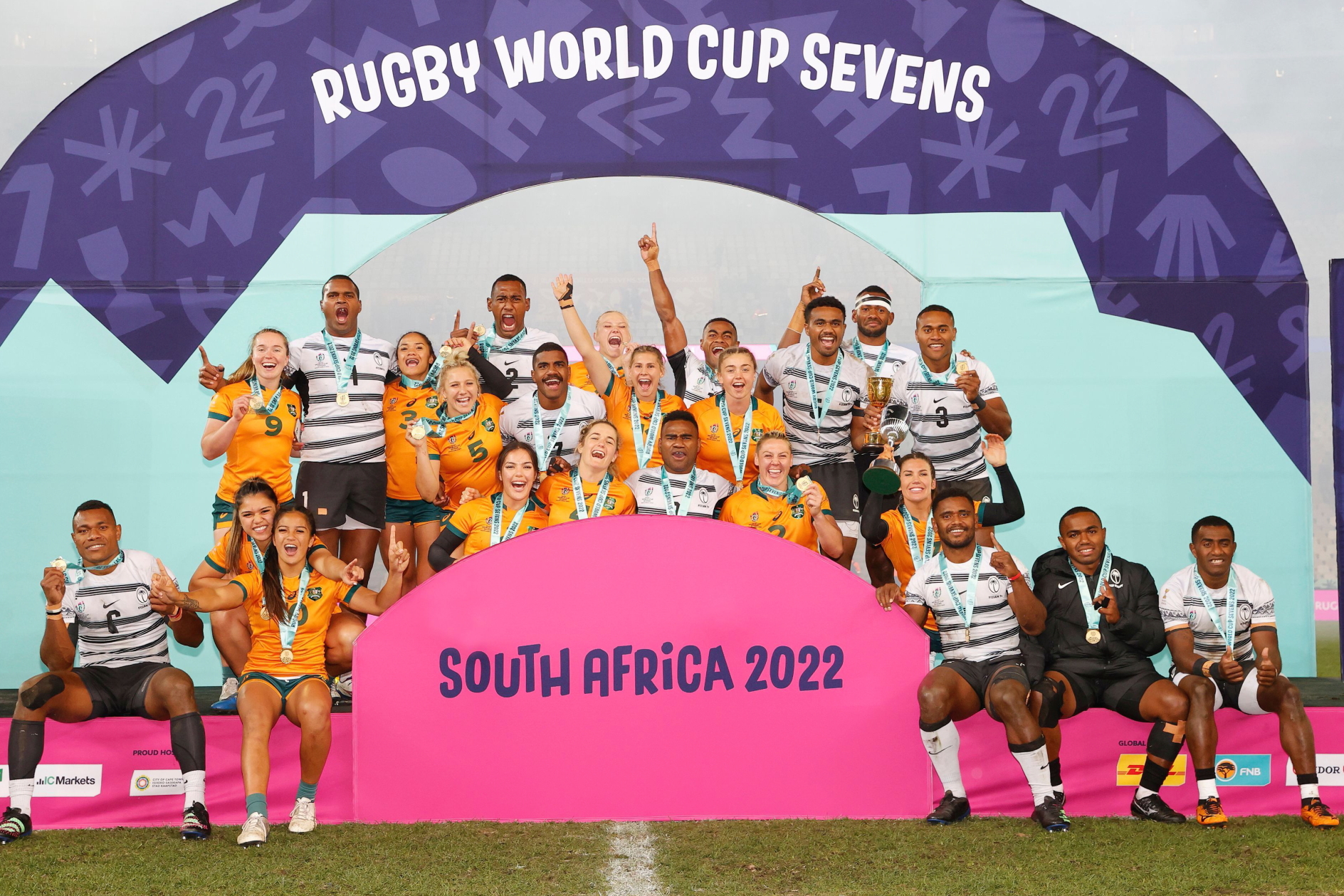 Fiji men and Australia women win Rugby World Cup Sevens 2022 titles
Fiji got off to a flying start in the men's final with four first-half tries from Joseva Talacolo, Kaminieli Rasaku, Elia Canakaivata and Filipe Sauturaga. Amid a flurry of yellow cards in a hotly contested match, New Zealand scored tries by Moses Leo and Akuila Rokolisoa
The Fijians defended ferociously, pushing New Zealand all the way back under their own posts, and sealed a superb victory with the final play through a fifth try from Pilipo Bukayaro.
Fiji lifted the Rugby World Cup Sevens trophy for the third time, having previously won in both editions hosted in Hong Kong in 1997 and 2005, they now join New Zealand on three wins.
Fiji's Jerry Tuwai said, "I am really proud of the boys, not just the boys but the team as a whole – the management, the coaches – for how we have worked these past weeks. We have so much, so much respect for New Zealand – the coaches, the players and the captain. We knew that they would fight back because they are a champion. We just worked hard and it happened. Thank you very much to the people of Fiji, we are so blessed we have so many supporters around the world."
Australia Women Secure Hat-Trick
The all-conquering Australian women added Rugby World Cup Sevens glory to their recent Commonwealth Games and World Series victories to secure a hat-trick of major titles and cap an unstoppable 2022.
The team overcame New Zealand 24-22 in an enthralling women's final, with France taking bronze.
Australia women's co-captain Charlotte Caslick said: "It's a pretty special feat that this group of young girls has done. It was something we've been brave enough to put out there and put everything on the line to come away with. It's incredible. I'm so proud of the girls – it's been an honour to lead them this year and to watch the growth they've had as a group and as a team on and off the field. It's really special for me to be a part of – at the moment I'm just really proud – proud of our coaching staff, proud of the girls, proud of (co-captain) Demi and I, and getting them to have this bond that is becoming a real force on the world stage."
The women's final came to a nail-biting conclusion as a hat-trick of tries from Maddison Levi and one from tournament top scorer Faith Nathan were just enough to see the women in green and gold to victory as the unfortunate Tenika Willison failed with a conversion attempt that would have put the match into extra time following New Zealand tries by Kelly Brazier, Shiray Kaka, Stacey Fluhler and Alena Saili.
For Australia's women it was their second world title, having won the inaugural women's tournament in 2009 in Dubai, and they draw equal with rivals New Zealand on two cup wins.
Alan Gilpin, World Rugby Chief Executive, said, "Cape Town has delivered a record breaking Rugby World Cup Sevens and the teams have delivered inspirational performances. From Madagascar to China, Uganda to Korea, Rugby World Cup Sevens has demonstrated the global nature of the sport and the tremendous opportunity that we are taking to accelerate the growth of the women's game. Rugby sevens has a very bright future."
The 'winner takes all' knock-out competition format meant that to be crowned champions a team had to win every time they entered the pitch and both Fiji's men and Australia's women made no mistake to maintain a perfect record over three intense days of competition.
Rugby Sevens fans will not have to wait long for the next taste of international action as the HSBC World Rugby Sevens Series 2023 begins with a men's event in Hong Kong on 4-6 November, followed by combined men's and women's rounds in Dubai on 2-3 December and a return to Cape Town on 9-11 December.
Rugby pictures: Pictures from 2019 Cathay Pacific / HSBC Hong Kong Sevens,
Pictures from 2018 Cathay Pacific / HSBC Hong Kong Sevens,
Pictures from 2017 Cathay Pacific / HSBC Hong Kong Sevens, Pictures from 2016 Cathay Pacific / HSBC Hong Kong Sevens, Pictures of Cathay Pacific / HSBC Hong Kong Sevens 2015, Pictures of the Asia Rugby Sevens Olympic Games Qualifier in Hong Kong, Pictures of Singha Thailand Sevens 2015,

Pictures from the 2013 British & Irish Lions Tour in Hong Kong,

Pictures of Hong Kong Sevens 2014,

Pictures of Hong Kong Sevens 2013,
Pictures of Chartis Cup 2012 and
Pictures of Cathay Pacific / HSBC Hong Kong Sevens 2012.