(01 September 2022, 11:08 +07) Embraer will showcase the C-390 Millennium multi-mission aircraft at Austria's biggest airshow for the first time.
During Air Power, taking place on 2 and 3 September in Zeltweg, Embraer will also promote its complete portfolio of products and solutions for the defense and security markets, which are present in more than 60 countries.
The aircraft is available as the C-390 Millennium and as the the KC-390 Millennium, which is capable of air-to-air refueling.
The Brazilian Air Force's (FAB) current fleet of KC-390s stands at five units and have exceeded 5,000 flight hours in operation with a mission completion rate of 97%.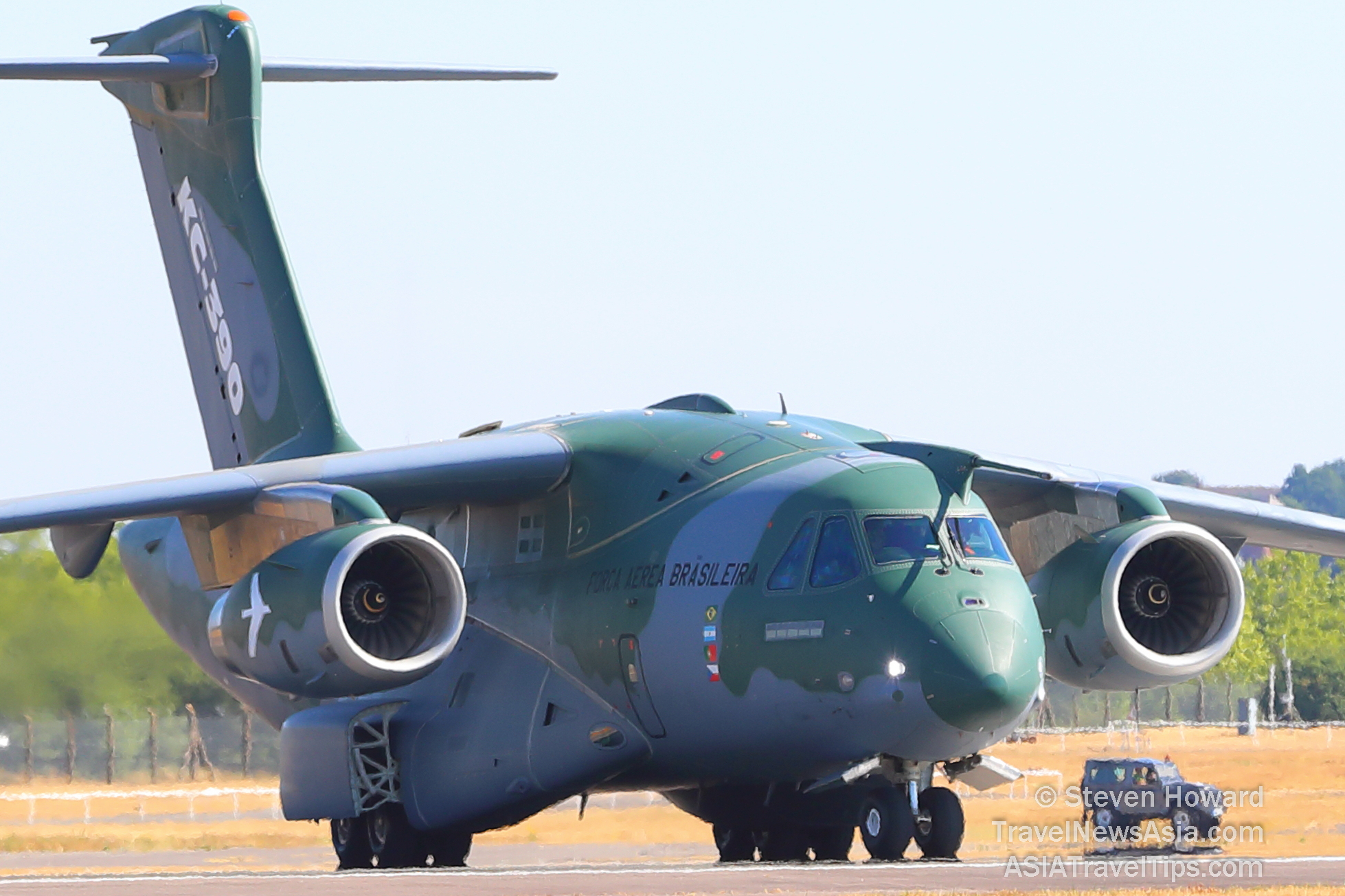 Embraer KC390. Picture by Steven Howard of TravelNewsAsia.com
The Portuguese Air Force and the Hungarian Defence Forces will start the operation of their KC-390s in 2023 and 2024, respectively. Both the Portuguese and Hungarian fleets will be capable of performing Air-Air Refueling and will be fully NATO compatible, not only in terms of hardware but also in terms of avionics and communications.
The Hungarian Defence Force fleet will be the first in the world to feature an Intensive Care Unit configuration, an essential feature for performing humanitarian missions.
Most recently, in June, the Netherlands Ministry of Defence said that five C-390 Millennium aircraft would succeed their current fleet of C-130 Hercules aircraft.
"We are glad to have this opportunity to showcase the C-390 at this renowned Airshow and share the aircraft capabilities with the attendees of the event," said Jackson Schneider, President & CEO, Embraer Defense & Security. "The entrance of the C-390 Millennium into the market comes at a crucial moment where air forces and governments are looking to incorporate new generation aircraft in their airlift fleets. We are seeing the C-390 operating with incredible availability rates, which is the result of a modern design for reliability, maintainability, and a selection of the best suppliers worldwide."
Recent HD video interviews: Airports, Biometrics and Travel – Interview with Sumesh Patel, SITA President – Asia Pacific, Mövenpick Siam Hotel Na Jomtien Pattaya – Interview with Dmitry Chernyshev, GM, HD Video Interviews from Miss International Queen 2022 in Pattaya, Thailand, Siam@Siam Design Hotel Pattaya – Interview with Clive Nagington, Is Siam Seaplane Ready for Take Off? Interview with Dennis Keller, Chief Business Officer.