(09/03/23) Elbit Systems has confirmed that it will participate at DSEI Japan 2023.
The second edition of DSEI Japan will once again bring the global defence and security sector together with the entire Japanese and wider Asian defence community. In 2021, the event attracted 10,216 delegates from 66 countries, with 178 exhibiting companies.
Scheduled to take place at Makuhari Messe in Tokyo from 15-17 March, the Israeli company will this year exhibit a wide range of products and systems at its booth in Hall 8, with both visual and interactive displays, including: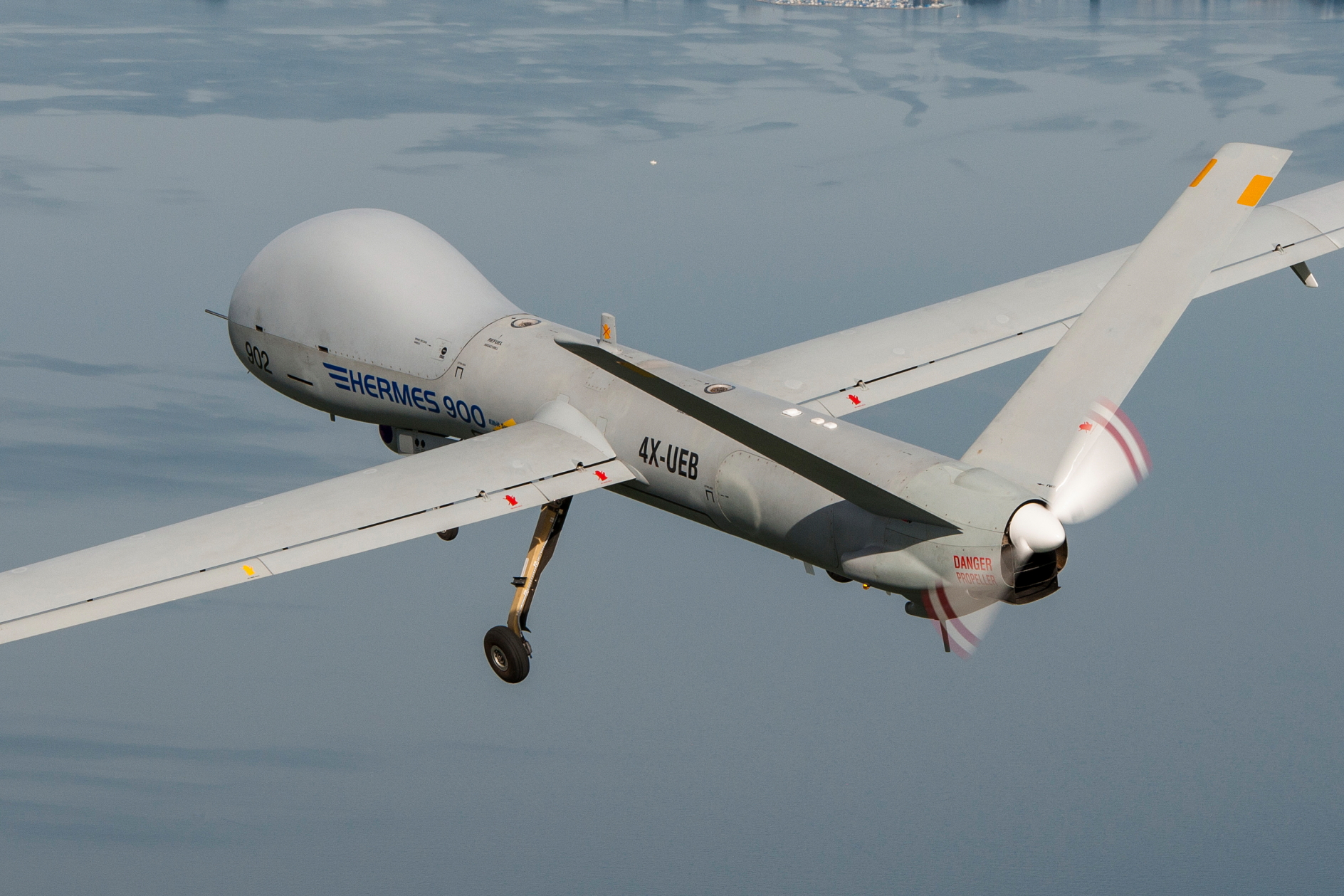 Elbit Systems Hermes 900 UAV. Picture: Swiss Army
Unmanned Systems: A model Hermes 900 UAS equipped with a variety of high performance sensors, allowing it to detect ground or maritime targets, over a wide spectral range. The Hermes 900 provides over the horizon, persistent multi-payload capabilities. Procured by the IDF and over a dozen countries around the globe, it is based on the proven and mature building blocks of the Hermes UAS family. The Skystriker fully autonomous loitering munitions (LM) that can locate, acquire and strike operator designated targets with an up to 10 Kg warhead installed inside the fuselage, enabling high-precision performance. Its electric propulsion generates a low acoustic signature.
Airborne Solutions: A compact unified suite for airborne EW self-system that combines a multi-spectral defensive aids suite and electronic support measures, a digital radar warning receiver, IR missile warning system, advanced laser warning system and chaff/flare dispenser.
J-Music facilitates effective protection to large aircraft against missile threats by integrating advanced laser technology along with a high frame-rate thermal camera and a small dynamic high-speed sealed-mirror turret.
The mini-Music is a smaller advanced system with a powerful laser for small to medium helicopter and fixed wing aircraft. The compact, lightweight system has a powerful fiber laser for efficient operation and a thermal camera for accurate acquisition and tracking.
iSnS (Immune Satellite Navigation System) enables reliable, nonstop GPS/GNSS operation. The sophisticated solution provides full jamming immunity for multiple satellite channels and handles multiple interfering signals and/or jammers operating on concurrent frequencies.
Elbit Systems will also display its Electronic Countermeasure (ECM) Pod. The Helmet Display and Tracking System (HDTS) features enhanced situational awareness capabilities including color symbology and Line-of-Sight technology for improved mission effectiveness and survivability. The solution can be installed on any helicopter, Eastern and Western, and is in operation on thousands of helicopters, accumulating over 2.5 million operational hours on different platforms.
The company will also display its 5th generation avionics as well as the Large Area Display (LAD) and a mock-up of the Head Up Display (HUD) as part of the next-generation cockpit.
Land & Communications Solutions: The Iron Fist Active Protection System (APS) provides armored platforms with 360-degree protection from a wide variety of anti-armor threats.
The Remote Controlled Weapon Station (RCWS) high-precision, multi-purpose weapons station designed for dynamic or station operation and can be used on stationary, mobile or naval platforms.
E-LynX radios are deployed at group and platoon levels and installed on board various combat vehicles. A key enabler of networked warfare capabilities, the E-LynX radios are capable of dynamic and autonomous optimization and enable fast, resilient and secure communications in any terrain.
A comprehensive range of solutions for combat and non-combat Search and Rescue (SAR) applications that offer reliable performance and accuracy with operational capabilities designed to support diverse emergency conditions and mission requirements.
Advanced Data Link offering secure multi-point communications for mobile or stationary tactical platforms.
Elbit Systems' stand will be H8-210.
Latest videos: Noise Cancelling Ear Plugs for a Perfect Night's Sleep, Running Lights – Lumefit Premium 360° Reflective Vest Review, Steven Howard Outlines Travel News Asia's Video and Podcast Plans for 2023, Amari Watergate Bangkok – 4K Video Interview with Sukamal Mondal, Area GM.