(21/09/22) Dusit has confirmed that its THB 46 billion (approximately US$ 1.24b) Central Park mixed-use development being built in Bangkok will feature an 11,200-sqm Roof Park sky garden.
Nestled on a 3.7-hectare plot of super-prime real estate in Thailand's capital city, Dusit Central Park will comprise a four-building cluster – the five-star Dusit Thani Hotel, two luxurious private residences (Dusit Residences & Dusit Parkside), premium Grade-A Central Park Offices, and the Central Park premium retail complex – all connected by the sky garden.
Ascending 20 metres from the 3rd floor to the 7th floor, the Roof Park will immerse residents in an inviting landscape of lush foliage, tropical flowers, shady trees, rippling ponds and soothing waterfalls.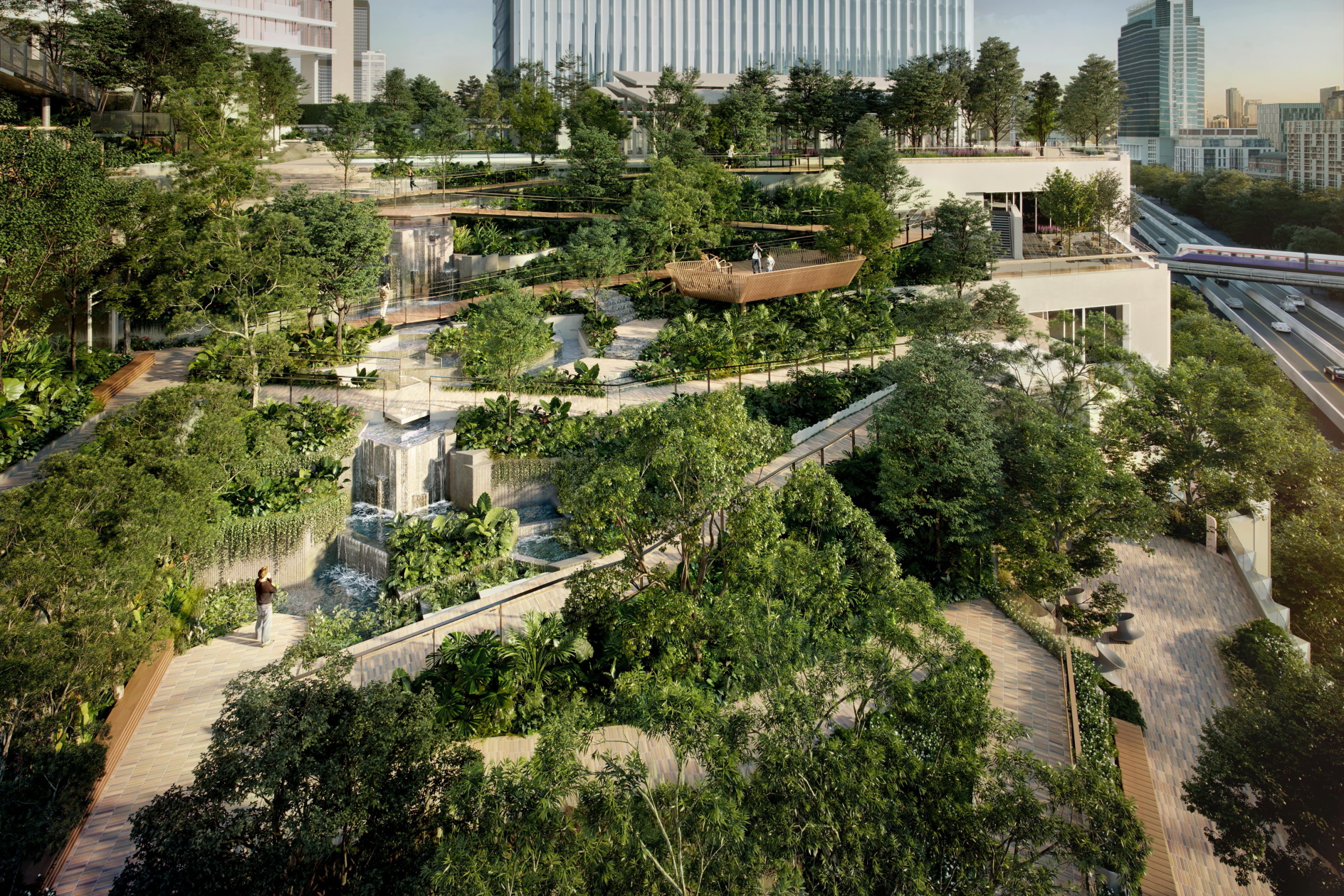 Rendering of the Roof Park Sky Garden at Dusit Central Park Bangkok
Separate zones will be dedicated to different purposes, including a workout zone with a 753-meter jogging track, an exhibition area, a live music zone, a water feature, picnic zone, playground, dog-friendly area and various viewpoints that overlook Lumpini Park and the Bangkok skyline.
Thousands of indigenous tropical plants have been selected for their air-filtering properties, helping to absorb dust and pollution particles from PM 2.5 up to PM 10, while also boosting oxygen levels in the atmosphere.
"At Dusit International, we take our environmental and social responsibilities very seriously. Our company is on a sustainability mission to improve the lives of residents and visitors in Bangkok, and Dusit Central Park is at the heart of this strategy," said Ms. Suphajee Suthumpun, Chief Executive Officer of Dusit International Group. "Our team has worked closely with leading architects and landscape designers to create a 1.1-hectare rooftop park where everyone can relax and reconnect with nature. With its carefully selected foliage of air-cleansing plants, social areas and shady walkways, this landmark project will reshape the Bangkok skyline and enrich the quality of life for residents. Our overall aim is for Dusit Central Park to help Bangkokians live in harmony with nature and improve their physical, mental and spiritual health."
Dusit Central Park is aiming for completion in 2025.