(29/11/22) Croatia Airlines has signed a firm order for six Airbus A220-300 aircraft and unveiled plans to lease an additional nine A220s, taking its total commitment for the type to 15.
The A220s will replace previous generation aircraft, helping the Zagreb-based airline to reduce operating costs as well as improving environmental efficiency.
Airbus and Croatia airlines have had a long-standing partnership that started 25 years ago when the airline first became an Airbus operator. Today, the Croatian national carrier operates an Airbus fleet of seven single-aisle aircraft from the A320 Family – five A319s and two A320s.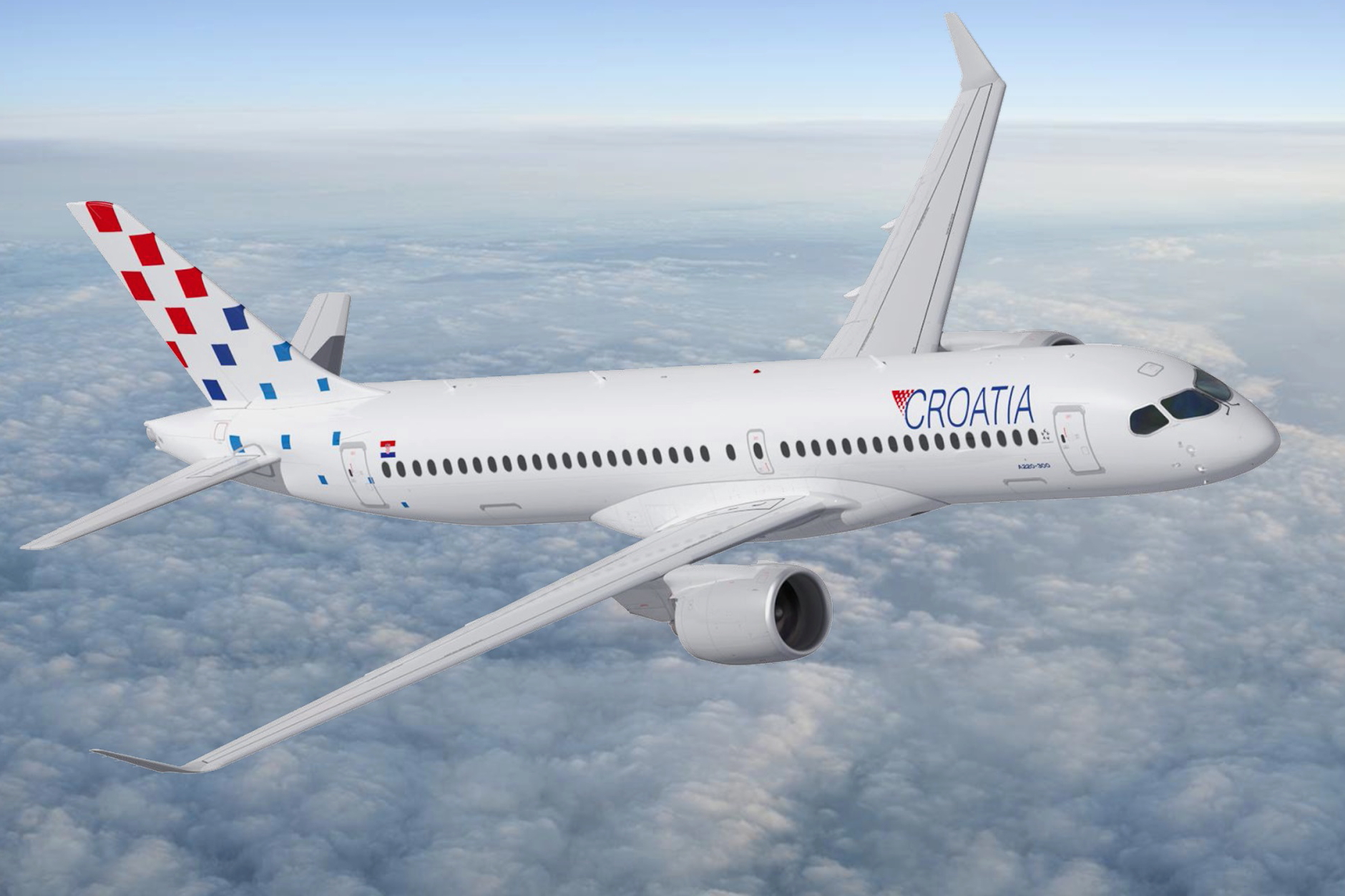 Croatia Airlines A220-300
"Today's signing of a contract for the purchase of state-of-the-art Airbus aircraft is a very special moment for all of us at Croatia Airlines," said Jasmin Bajić, CEO and President of the Management Board of Croatia Airlines. "It marks the beginning of a new period of aviation, a new period in the life of Croatia Airlines, a new period for our passengers, and a new period for Croatia's tourism and economy as a whole."
The A220, formerly known as the Bombardier CSeries, is purpose-built for the 100 to 150-seat market and is powered by Pratt & Whitney's latest generation GTF engines.
According to Airbus, the A220 delivers a 50% reduced noise footprint, up to 25% lower fuel burn per seat and CO2 emissions when compared to previous generation aircraft, as well as around 50% lower NOx emissions than industry standards.
"We are thrilled to add Croatia Airlines as a new A220 customer. The A220 is ideally suited to Croatia's aviation needs, providing operational flexibility and efficiency allowing its airline to pursue its ambition for both regional and international connectivity without compromising on any aspect, be it passenger comfort or trip and seat cost economics," said Christian Scherer, Airbus Chief Commercial Officer and Head of International.
To date, more than 70 million passengers have enjoyed flying on the A220. The fleet is currently flying on over 800 routes and 325 destinations worldwide.
Latest HD video interviews: Amari Watergate Bangkok – 4K Video Interview with Sukamal Mondal, Area GM, Bangkok Riverside Fest 2023 – 4K Video Interview with Frederic Kolde, Business Travel Trends in Asia Pacific – Video Interview with Brett Thorstad, Sabre.