(28/10/22) British Airways has partnered with Chooose, a climate tech company, to launch two online platforms that enable individual and corporate customers to better understand, calculate and address the emissions that their flights produce.
British Airways' customers have been able to mitigate their emissions by purchasing carbon offsets and sustainable aviation fuel (SAF) for some time.
The new CO2llaborate programme is an evolution of that carbon offsetting tool, and features more precise emissions calculations and a new adjustable slider to give customers more control over the amount of SAF versus verified carbon offsets they wish to purchase.
The SAF available on the CO2llaborate platform comes from the Phillips 66 plant in Humberside, which uses waste cooking oil as the feedstock, providing lifecycle emissions reductions of over 80% compared to traditional fossil-based jet fuel.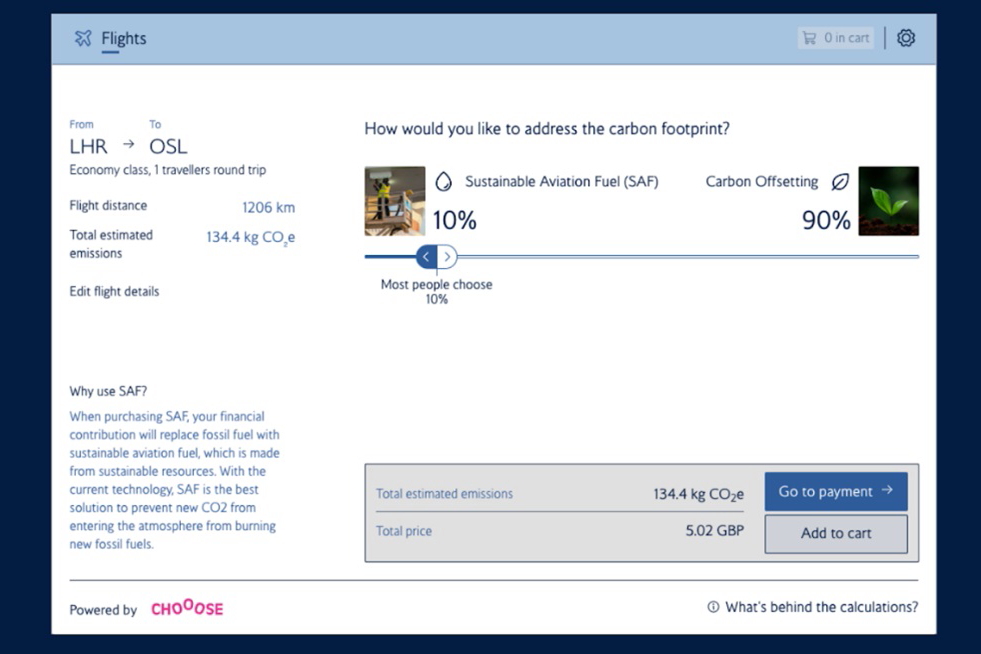 British Airways has partnered Chooose to launch the CO2llaborate
The SAF is routinely delivered to British Airways via existing pipeline infrastructure that feeds directly into London Heathrow as part of the airline's multi-year partnership with Phillips 66.
Andreas Slettvoll, CEO and Founder of Chooose, said, "Partnering with British Airways is a true milestone in bringing climate solutions to both leisure and corporate travellers. British Airways has always been a north star to us in innovation in the airline industry and we are proud to support them in their relentless work on their most important journey yet, their journey to net zero."
Individual customers can access the platform before, during or after their flight, while corporate customers will get access to a dashboard that shows the CO2 emissions generated from their business travel and receive monthly emissions reports.
Companies will then be able to select how to address their carbon emissions by selecting specific climate solutions ranging from purchasing SAF to contributing to certified carbon offset projects.
"We know that many of our customers want to fly with sustainability in mind and while we work on delivering our own short, medium and long-term initiatives to achieve net zero emissions by 2050, we know many of our customers want to take action today too," said Carrie Harris, Director of Sustainability at British Airways. "This new CO2llaborate platform further empowers our customers to make sustainable choices when flying with us. We look forward to working with Chooose to evolve the platform as we continue to drive the decarbonisation of our industry."
Latest HD video interview: Business Travel Trends in Asia Pacific – Video Interview with Brett Thorstad, Sabre.