(22/09/22) Ascott has unveiled plans to refresh and expand its fastest growing brand, Citadines.
Ascott acquired the Citadines chain in Europe in 2004 and has since tripled its portfolio with 104 properties in operation today, including its latest flagship property, Citadines Raffles Place Singapore (pictured), in the heart of the city's financial district.
The brand, which offers travellers the comfort of a serviced residence with the flexibility of a hotel, currently has 80 properties under development across 56 cities.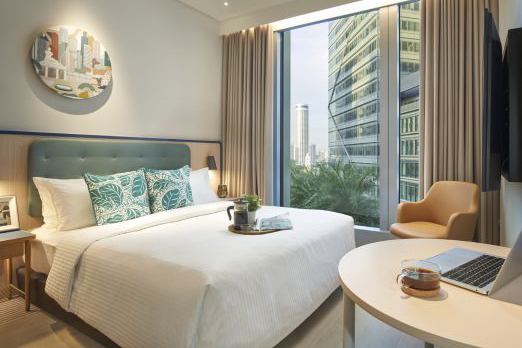 Room at Citadines Raffles Place Singapore
"Citadines is an important brand in Ascott's portfolio and we look to aggressively expand its footprint in key cities around the world," said Tan Bee Leng, Ascott's Managing Director for Brand & Marketing. "With the buoyant growth in both corporate and leisure travel across key markets, we are excited to bolster our expansion plans for Citadines and it is timely for us to embark on a refresh of the brand. With the trajectory we're seeing, we are confident of the continued growth of Citadines, which has one of the most extensive global footprints amongst aparthotel brands, delivering value for both our guests and owners,"
The refresh of the brand includes efforts to increase the number of resident events, promote city living and the neighbourhood where each property is found, offer coffee-related experiences to guests, a more relaxed check-in experience, a more innovative use of available space for meetings, events and other purposes,
With the unveiling of the refreshed Citadines brand, guests can expect to experience the full suite of key brand signatures as properties progressively roll out all initiatives across regions including the Americas, Asia Pacific, Europe and the Middle East by 2025.
"Over the past few years, the serviced apartment business has transformed. We have likewise pivoted our offerings towards a hybrid model that would not only allow us to offer the option of both hotel rooms and serviced residences, but also a robust programme that better caters to the lifestyle needs of our guests," added Tan Bee Leng.