(19 August 2022, 11:37 +07) Air Astana Group carried 3.9 million passengers during the first seven months of the year, a 9% increase over the same period in 2021.
The group's network continued to expand with the resumption of flights to destinations including London and Istanbul, together with the launch of new services to Greece.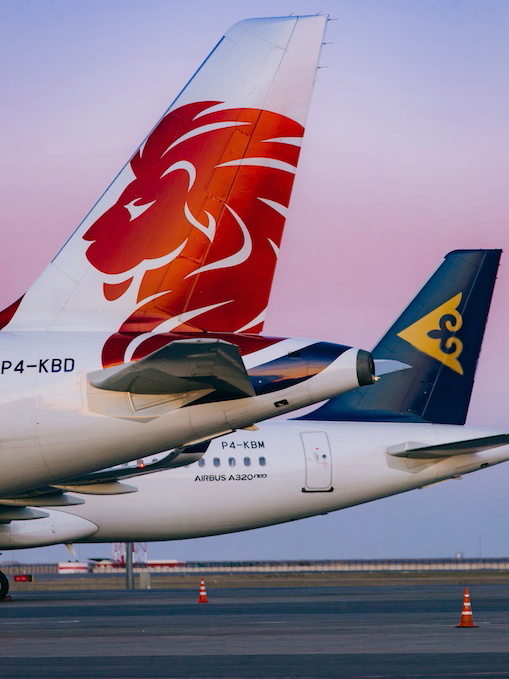 Tail fins of FlyArystan and AirAstana aircraft
In the coming months, frequencies to Dubai, Delhi and Phuket will be significantly increased, and services to Bangkok will be resumed, a significant step in re-building the carrier's Asian network.
Air Astana Group fleet developments during the remainder of 2022 will see Air Astana take delivery of two more Airbus A321LR aircraft, bringing the total to 10, whilst the LCC division, FlyArystan will add three more Airbus A320neo aircraft, bringing the total fleet up to four.
Air Astana Group added 13 new aircraft between mid-2020 and March 2022, with a further 24 aircraft due to join the fleet by mid 2025.
Whilst the fleet modernisation process will see some older aircraft being gradually replaced, the group is fully committed to expanding the fleet to 59 aircraft by 2025.
The group's flight crew training capability will be significantly expanded with the opening of a new centre costing US$10 million in Nur-Sultan later this year.
The training centre will be equipped with the first full flight simulator in the country, which will not only improve pilot training efficiency, but also help alleviate the need for expensive training outside Kazakhstan and save up to US$18 million over the next 10 years.
The group is also planning to expand its in-house maintenance capability at regional bases in the near future.
"Air Astana has rapidly recovered despite an unprecedented series of operational challenges this year, with passenger traffic up 9% and seat capacity up marginally between January and July compared to the same period last year," said Peter Foster, President and CEO of Air Astana Group. "Given the strong expectation of continued growth in both international and domestic markets in the future, it is now timely for the Group to be significantly expanding the fleet, together with investing in new pilot training and maintenance facilities, to achieve long-term goals."
Recent HD video interviews: Airports, Biometrics and Travel – Interview with Sumesh Patel, SITA President – Asia Pacific, Mövenpick Siam Hotel Na Jomtien Pattaya – Interview with Dmitry Chernyshev, GM, HD Video Interviews from Miss International Queen 2022 in Pattaya, Thailand, Siam@Siam Design Hotel Pattaya – Interview with Clive Nagington, Is Siam Seaplane Ready for Take Off? Interview with Dennis Keller, Chief Business Officer.