(13/04/23) Accor has signed a deal with Shekhar Resorts to open the first Fairmont hotel in Agra, home of the Taj Mahal – one of the seven wonders of the world and an UNESCO World Heritage Site in India.
Set to open by 2025, the Fairmont Agra will be located on a bank of the Yamuna River in the city of Agra in the northern state of Uttar Pradesh. The hotel, which will have 205 rooms and suites, will be approximately a two-hour drive from New Delhi and around two kilometres from the Taj Mahal.
Facilities will include a signature restaurant, specialty restaurant, coffee shop, bar, swimming pool, fitness center and a spa.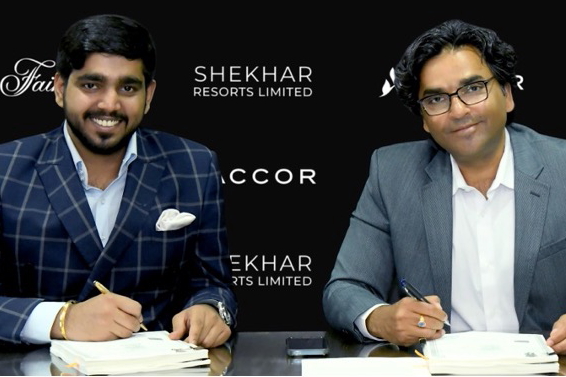 Done deal! Done deal! The Fairmont Agra is scheduled to open by 2025
"We are delighted to partner with Fairmont, an iconic luxury brand within the Accor Group," said Anuj Jain, Director of Shekhar Resorts – Agra. "Given Accor's expertise in luxury hospitality management and knowledge of the markets they operate in, we found Fairmont and Accor as the most adept partners to manage the upcoming Fairmont Agra. We believe that the property will stand out and elevate the luxury hospitality experience in Agra and northern India. We are excited to start our first partnership with Fairmont and Accor and to bring the most unique and memorable experiences to our guests."
In India, Fairmont already operates the majestic Fairmont Jaipur and will open additional hotels in Udaipur, Mumbai and Shimla Fagu over the next two years.
"This is a great addition to our brand portfolio," said Mark Willis, CEO of Fairmont Hotels & Resorts. "Fairmont Agra will be situated in one of the most awe-inspiring destinations in the world, and I am confident that its strategic location, architecture, and breathtaking views will make it one of our top iconic properties. With the brand's exceptional standards, Fairmont Agra is set to offer an unforgettable experience to its guests."
Latest videos: Noise Cancelling Ear Plugs for a Perfect Night's Sleep, Running Lights – Lumefit Premium 360° Reflective Vest Review, Steven Howard Outlines Travel News Asia's Video and Podcast Plans for 2023, Amari Watergate Bangkok – 4K Video Interview with Sukamal Mondal, Area GM.