(22/11/22) Accor has expanded its portfolio of hotels in Thailand with a new Mercure beach resort in Rayong.
The first phase of opening for the Mercure Rayong Lomtalay Villas & Resort on Laem Mae Phim Cape is now open to guests and includes 51 rooms, suites and villas, a pool bar, restaurant, meeting room and spa facilities.
A grand opening will take place upon completion of the 184-room pet-friendly resort's garden wing next year, which will include an additional 133 rooms, suites and villas, four restaurants and bars, along with expansive meeting, conferencing and events facilities.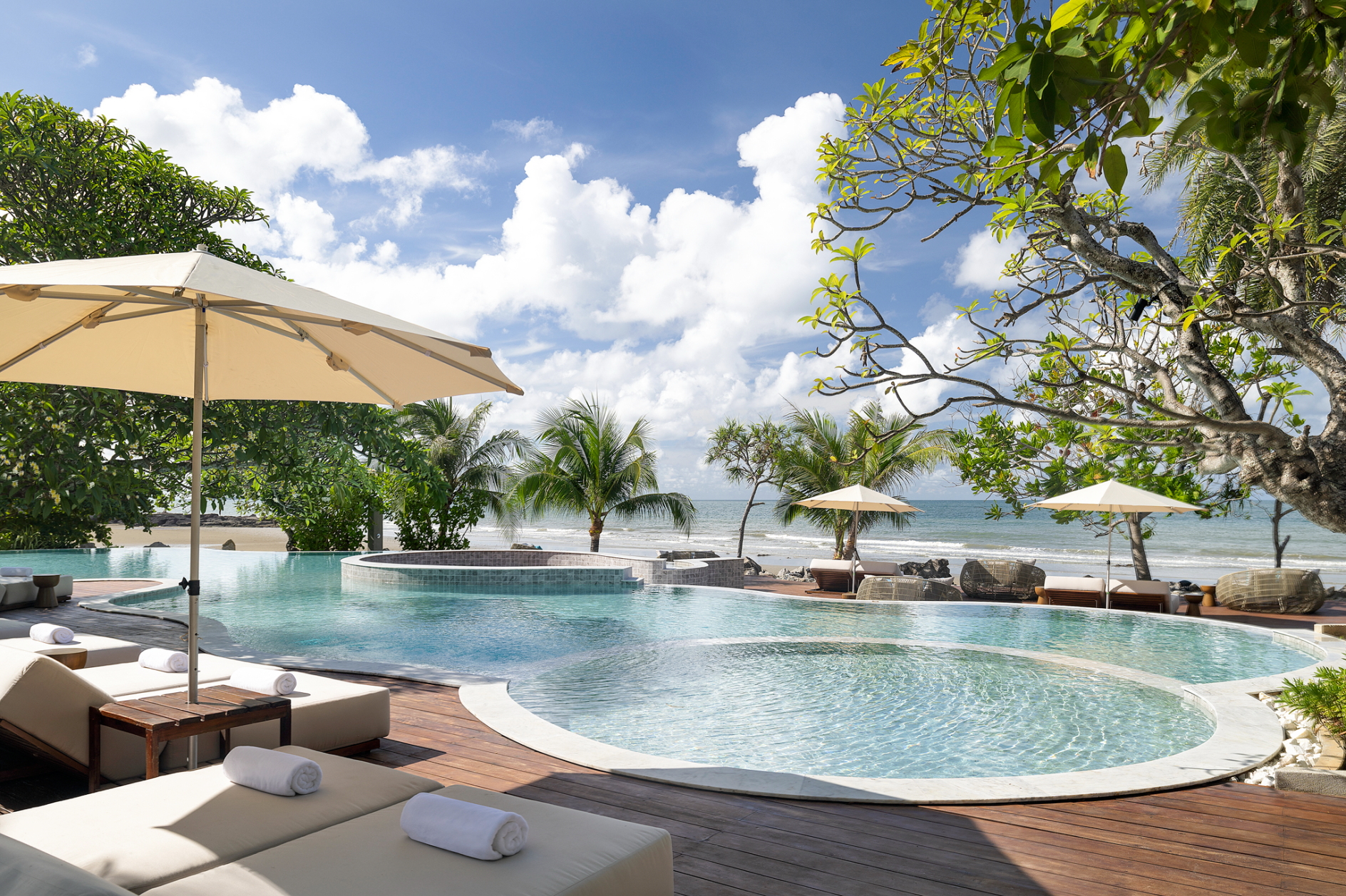 Pool at Mercure Rayong Lomtalay Villas & Resort on Laem Mae Phim Cape in Thailand
Located on the Kingdom's eastern seaboard, south of Pattaya, Rayong is approximately a two and a half-hour drive from Central World in Bangkok and about 2 hours from Suvarnabhumi International Airport (BKK).
"We are very pleased to expand our network in Thailand with the launch of our 10th Mercure hotel in the country," said Garth Simmons, Chief Executive Officer of Accor, Southeast Asia, Japan and South Korea. "With the brand's trusted global reputation and refreshed identity, I am confident that Mercure Rayong Lomtalay Villas & Resort will drive greater tourism to the province. Each Mercure hotel is characterized by the individuality of the destination that it resides – I know that guests will love experiencing a portal into Rayong's unique coastal offerings with the exciting array of local experiences on offer here."
The ocean wing consists of 51 guest rooms across three different categories. The 33 Executive Rooms offer a comfortable outdoor seating area with lush courtyard views, while the eight suites feature panoramic views of the ocean, with 10 contemporary villas offering easy access to the swimming pool and beach.
"We are excited to launch Mercure Rayong Lomtalay Villas and Resort as the newest and trendiest destination in Rayong," said David G. Daguise, General Manager, Mercure Rayong Lomtalay Villas & Resort. "The resort is rooted in local traditions and culture, with Thai inspired interiors and menu offerings sourced locally. Together with the local community, we pride ourselves on taking sustainability seriously by working with nearby producers and minimizing our impact on the environment. I know that Mercure Rayong Lomtalay Villas & Resort will become a great hub within the province, delivering an authentic and high quality experience."
Latest HD video interviews: Amari Watergate Bangkok – 4K Video Interview with Sukamal Mondal, Area GM, Bangkok Riverside Fest 2023 – 4K Video Interview with Frederic Kolde, Business Travel Trends in Asia Pacific – Video Interview with Brett Thorstad, Sabre.